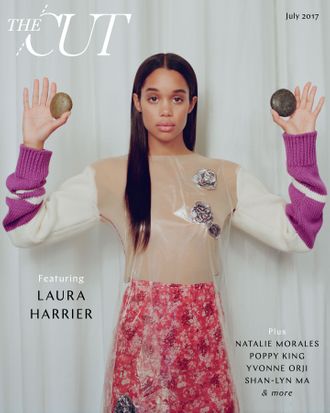 Photo: Alexander Saladrigas, styled by Danielle Nachmani.
Welcome to July. I hope your long weekend was full of pink wine and sunshine. Mine was full of family, friends, and caftans. I've been on vacation for what feels like ten years but was actually just a week. I happened to be out at the beach, in a part of the Hamptons where I always feel like an anthropologist sent to study the mating rituals of middle-aged bankers. (Spoiler alert: They are the people who actually wear "driving shoes" while riding in cars next to women who could be their daughters, but are not.) It's a good place to go and reflect on the beauty of nature and the nature of privilege. It's also an incredible place to scavenge for vintage clothes at estate sales.
While on my rich-person fact-finding mission, I did a lot of hot, sweaty yoga. Here is what I learned while deep in a meditative state: Despite dabbling in yoga for the better part of two decades, I might never have what it takes to do a headstand in a 108-degree room. I think I am at peace with that, but it got me thinking about limits, expectations, living in the moment and "summer bodies." The golden, glorious months we call summer are finite. The number of those seasons no longer stretch out in front of me endlessly the way they did when I was a teenager. It's important to enjoy them as much as possible. All weekend I watched as people in my Instagram feed did just that: on rooftops; in parks; in dark, frigid movie theaters; in messy bars in Bushwick; even stuck in traffic on turnpikes with no air conditioner in the car because someone forgot to get gas and the gas light was blinking and you think maybe you'll have to pull over on the side of the road and eat the Oreos in your bag for dinner while you wait for AAA.
Summer is amazing!
July on the Cut is full of fun. We've just returned from Couture, where fashion director Rebecca Ramsey saw every kind of gown, plus Céline Dion at Dior. Rodarte showed there for the first time and its talents seem perfectly suited for custom gowns — a delicate dress adorned with baby's breath was a sight to behold.
Our cover woman this month is Laura Harrier, gorgeous star of the new Spider-Man. She wears Calvin Klein, from Raf Simons's fall collection. And she holds rocks. Normally when I get photos like this back from photographers I say out loud to no one, "Whyyyyyy is she holding rocks?" But for some reason, as Ashley Weatherford discovered, with Laura Harrier, nothing seems out of place because she's one of those perfect people who can hold two rocks in the air like it's totally normal. After seeing her, you might even find yourself thinking, I want to hold rocks in the air for no reason. She can also go from talking about pottery and physics to Black Lives Matter with no problem whatsoever.
Later in the month, as we enter peak wedding season, we'll be running a series called I Don't, all about marriage. As you can imagine from the name, there's a healthy amount of ambivalence and skepticism in our approach. But it's not all doom and gloom: This is Summer after all.
Allison Davis interviewed two women we love: Natalie Morales of Battle of the Sexes and Yvonne Orji of HBO's Insecure. And we've got bathing suits and beach blankets and sandals and wardrobe ideas for how the hell to survive in your sub-zero office. We've got music and tastemakers and all the Beyoncé rumors you could ever want. In a nutshell, we are the ultimate beach read to switch to in between posting your crab dinners, dance parties, motorcycle vacations, inflatable pretzels, and sunburns.
Love, Stella