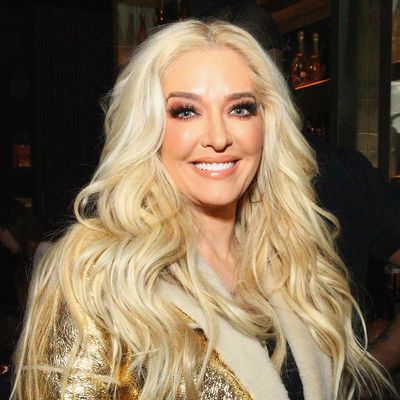 Erika Girardi.
Photo: 2016 Getty Images
Anyone who is Real Housewives material is by definition over-the-top, and Erika Girardi, known by her stage name Erika Jayne, lives at the very peak of over-the-top. When the Real Housewives of Beverly Hills traveled to Dubai two seasons ago, Girardi brought her hair and makeup artists (the other ladies were shocked! Stunned!). When the cast traveled to Hong Kong last season, Girardi's glam team joined her once again. They go wherever she goes, and they often take one of Girardi's two private planes to get there.
The Cut sat down with Girardi to discuss her approach to beauty. She was joined by Beauty Blender founder Rea Ann Silva, who explained that she had been "Instagram stalking" Erika for years because she was obsessed with her makeup. The two recounted what it takes to transform into Erika Jayne.
Do you ever do your own makeup?
Erika: I can do the basics, but I can't paint. Rea's the real makeup artist. When I do my makeup, it doesn't look professional. My mother was a makeup artist for Estée Lauder and she taught me.
Do you wear makeup every day?
Erika: No.
Rea: No. I've been a professional makeup artist for over 25 years and some of my call times are at three or four in the morning. You get used to letting it go. It's not about me, it's about my client. Also, if I come in with a full face of makeup and I've never worked with the client I'm meeting, they have this preconceived idea that I'm going to make them look the way I've done my own makeup.
Erika: That is true!
Rea: So I come as a clean palette. That's one of the biggest reasons why I don't wear makeup. I had a job one time with this big pop star from the U.K. and she took a look at me and went to her manager and said: "Um, I'm not going to look better than her when I'm done." I never realized that was the perception, so I was like I'm going to wear a clean face from now on.
Erika: If I'm not working I'm not wearing makeup. The skin needs to breathe. There's so much tugging and pulling. Even tonight, I'll cleanse my skin but I probably won't moisturize it because I want it to come back to itself.
Rea: I like to steam once a week.
Erika: I like steaming too!
What have you discovered as the best way to remove makeup?
Erika: I use oil. It breaks down makeup without tugging and pulling. It's gentle. I use this Korean oil that I get from Neiman Marcus.
Rea: For years I've been using Dermalogica Precleanse. It's a light oil. Tatcha has a good one too. If you back into the history of makeup, the old makeup artists used albolene or mineral oil. Oil lifts up makeup, otherwise you have it left in your pores.
Erika: You have to treat your skin very tenderly. You can't be aggressive with your skin.
How long does your hair take?
Erika: Probably an hour. We wash it, blow-dry it, and style it.
Do your wigs have names?
Erika: Not yet, but I'm moving in that direction.
Do your hair extensions or wigs ever make you crazy hot?
Erika: This morning I started breaking a sweat. Yeah, I get hot, especially when I perform. Listen, this is a lifestyle. I don't recommend it to anyone, it's just what I do and it's a lot. It's a lot of upkeep. It's a lot of time. It's a lot of money. I highlight, process, Brazilian, install … I sit down for a whole day once every eight weeks and take all my extensions out and redo them. It's a lot. You wanna look good? Shit costs money and takes time. It just does.
This interview has been edited and condensed.