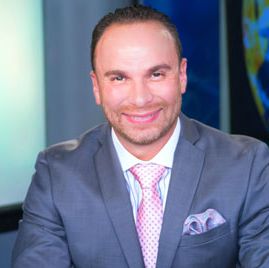 Francisco Cortes.
Photo: Courtesy of Fox News Latino
In February, 21st Century Fox reached a $2.5 million-plus settlement with Fox contributor Tamara Holder over claims that she was allegedly sexually assaulted by former Fox News Latino vice-president Francisco Cortes in 2015. On Tuesday, Cortes filed a $48 million lawsuit against the company, alleging it used him as a "scapegoat" to show that it "aggressively handles sexual-harassment complaints."
According to The Hollywood Reporter, Cortes filed a complaint in New York federal court, claiming the company scapegoated him as it dealt with an onslaught of sexual-harassment claims. He also claims 21st Century Fox's actions were "part of a carefully orchestrated plan to permit the Murdochs to eliminate concerns in the U.K. regarding their $15.2 billion acquisition of Sky, and to protect the identity and shelter the reputations of the two unknown persons who, it must be assumed, were, unlike Mr. Cortes, not Latino, and not financially insignificant to Fox."
Fox's settlement with Holder was first reported by the New York Times back in March, after the company issued a joint statement with the on-air contributor acknowledging that she had reported an incident of sexual assault from the prior year in September 2016. Holder alleged Cortes invited her into his office, shut the door, poured them a shot of tequila, and attempted to force her mouth toward his penis while holding the door shut.
In his complaint, Cortes claims the settlement with Holder also included two other unnamed individuals, and that the agreement had a mutual non-disparagement provision. "Nevertheless, a mere two weeks later, Tamara Holder and Fox delivered a previously planned and carefully negotiated joint statement to The New York Times regarding the allegations, in violation of their obligations," it reads.
Cortes alleges the statements disparaged his reputation and ruined his career prospects, and that he wasn't able to defend himself in the media against the allegations because of his contractual agreements.