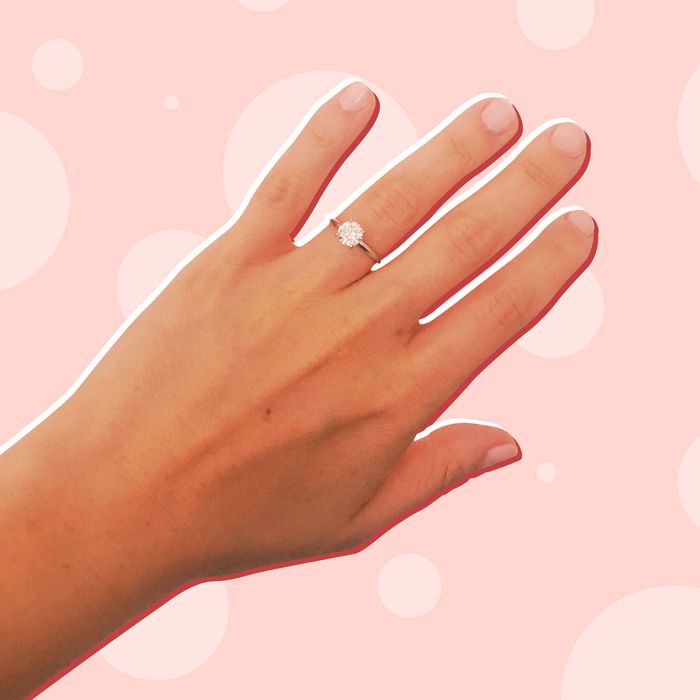 My $15 fake engagement ring.
Photo-Illustration: Raydene Salinas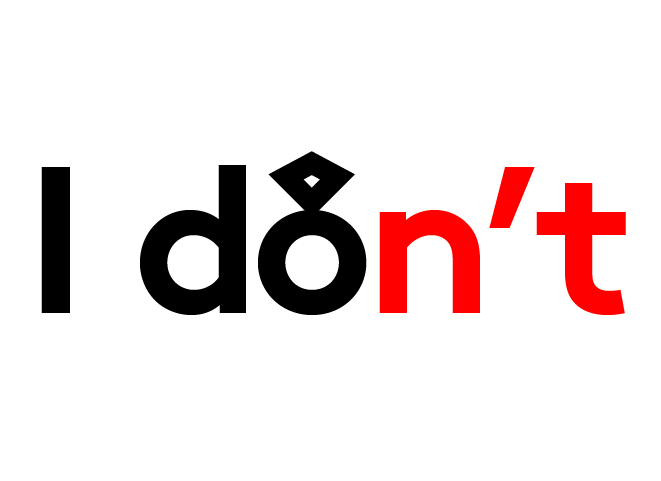 A weeklong series dedicated to skewering the traditions, expectations, and psychodrama that surround wedding season.
According to my wedding page on TheKnot.com, I'm getting married on September 2 on my family's farm in rural Ontario to a southern emergency-room doctor named Doug Cohle. The dress code is "casual," the farm is located at "ask for address," and the page features an adorable picture of me and my fiancé kissing by a lake as the sun sets. But the truth is, my family has never owned a farm, the picture is a stock photo, and Doug Cohle is an amalgamation of George Clooney's character Doug Ross on ER and Matthew McConaughey's character Rust Cohle on True Detective. Oh, and I'm also single.
I'm not someone who would ordinarily embrace faking her marital status, but I am someone who is a big fan of group exercise classes — and at around $35 (or more) per session, those barre and spin workouts aren't cheap. So, when I learned that many of these expensive gyms offer discounted monthly packages to brides hoping to get in shape for their wedding day, I did what any logical and frugal exercise fiend would do: I bought a $15 fake engagement ring online, made myself a wedding website, and signed up for a three-month bridal workout package at my favorite barre studio. I kept it up for 90 days. And you know what I learned through my experience of fake betrothment? Being engaged is amazing; when you're a bride-to-be, the world rolls out the red carpet for you.
First, the discounts. There are so many discounts for brides. There are discounted spa packages; there are discounts and free gifts just for signing up for wedding registries at certain stores (for instance, Crate & Barrel gives you free stemless wineglasses in an embroidered linen bag, while Bloomingdale's gives you 20 percent off of a ton of items, including clothes and jewelry). There are also countless exercise classes, from spin classes to boot camps, and barre classes. I emailed my go-to barre studio, and told them I was getting married and that I wanted to sign up for their bridal package. They immediately knocked off about $100 from my membership for three months, and the next day I was tucking and lunging my way to a fake bridal body.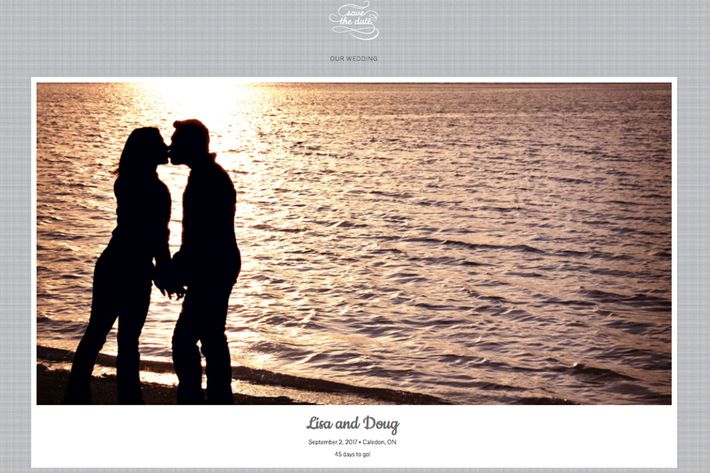 When I arrived at the studio on the first day of my bridal package, a woman congratulated me and eagerly began asking me about my wedding. At first, it felt like an interrogation — When are you getting married? Where are you getting married? How's planning going? — until I realized that, no, she was actually just being nice, a phenomenon I'm not used to in New York. As it turns out, once you've got a ring on your finger, people are simply nicer to you in general. One day when I was shopping, a saleswoman and I made small talk until an awkward silence hit. Then, noticing my ring, she asked how I got engaged — I stole a friend's story of getting proposed to over a cheese plate — and the conversation easily transitioned to cheese and how much we both love cheese and what sort of cheese we loved and, bam, that awkward silence was no more.
I spent the first two months of my bridal workout package using my fake engagement for exercise's sake, but as the third month approached, I decided to see just how far I could take this whole fake-bride thing. Hollywood had convinced me that trying on wedding dresses at bridal boutiques involved copious amounts of free Champagne — and if there's one thing I love, it's getting drunk for free. So I made appointments at high-end wedding shops and brought a friend along for what I assumed would be a day of getting wasted while playing dress-up.
I was disappointed to learn that the fittings did not involve free alcohol, but I had a lovely time being treated like royalty at a store for the first time in my life. The salespeople acted like I was the most important person in the room (as opposed to looking annoyed while I make a beeline for the sale rack, which I do at most stores) and even helped me limp from the dressing room to the mirror as I dealt with an ankle injury.


In total, I (soberly) tried on 15 dresses between the stores I visited, including an A-line gown by Lela Rose that was arguably the most beautiful thing I'd ever worn and a few sweetheart mermaid dresses that made me feel like Sofia Vergara. Looking in the mirror at myself in the gowns, each of which cost at least four times more than my rent, I vowed to stop dating men with commitment issues so that I could eventually wear one of these dresses for my own wedding years from now.
At first, I only wore my fake ring to my barre classes (and wedding-dress shopping, of course), but as time went on, I started putting it on when I was leaving my apartment. I'd wear it on the subway and stare as it glistened in the dull MTA light every time the C train broke down. I wore it out to post-barre happy hour with my best friend a few times, and wondered if the hot European bartender was giving me free drinks in spite of or because of the fact that I was seemingly unavailable. Married friends aware of my fake engagement also started opening up to me about the pains of planning their own weddings, and I found myself deciding that I'd cap off my hypothetical future wedding guest list at 150 max and that I'd go for a DJ over a band.
Eventually my bridal workout package came to an end, and rather than sign up for a full-price membership, I bid that studio adieu, retired my fake ring to a box in the back of my closet, and changed my email settings on TheKnot.com so I'd stop getting daily countdown notifications to my "big day." I probably won't try to get another bridal discount, but I'll certainly miss my fake betrothment and all the riches it had to offer. Reaping the rewards of an engagement — without actually having to deal with seating arrangements, wedding invitations, or drunk relatives giving impromptu speeches at the reception — showed me that life is simply better when you're a fake bride-to-be.