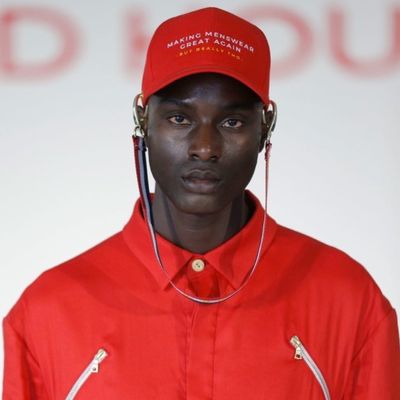 Wood House Spring 2018.
Photo: Courtesy of Instagram/woodhouse_official
At some point over the course of the past year, Trump's "Make America Great Again" baseball caps somehow made the leap from "headwear of choice for extended family members who think universal suffrage was a mistake" to "high fashion statement piece." The latest designer to put his spin on the MAGA hat is Julian Woodhouse, a 27-year-old former U.S. Army lieutenant whose Spring 2018 Wood House showcase featured a red hat emblazoned with the words "Make Menswear Great Again. But Really Tho."
I want to make menswear great again because I remember a time when getting dressed in something unique, as a guy, was more celebrated. Menswear has the potential to be just as robust as womenswear and because I don't yet see that level of freedom for menswear within the industry, I am trying to make it happen as best I can."
He added that, if nothing else, Trump's hat is effective messaging.
"…Whether you support the guy or not is immaterial; when you read his hat you know exactly what he thinks he is doing. I know who the Wood House audience is and I know how they regard the president. Ripping on the president's hat is a risky thing that I wanted to do confidently and with no regrets."
Woodhouse is not the first to riff on the MAGA hat. Parodies have featured slogans like "Make America Gay Again" and "Make American Vogue Great Again," and, for the fall 2017 season, Public School sent a hat down the runway that said, "Make America New York Again."
Fingers crossed it won't be too long before designers start drawing their accessory inspiration from Trump-family scheduling guru and renowned hat connoisseur Rob Goldstone, and we start seeing, "This iPhone speaks many languages" hats on the runway.