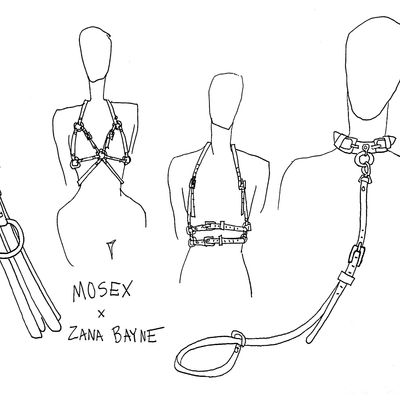 Photo: Christian Velez/Courtesy of Museum of Sex
Fetishwear has gone mainstream (Kylie Jenner's corsets, anyone?), but Zana Bayne did sculptural, street-appropriate bondagewear first. It's the brand behind the industry's most iconic leather pieces, from Lady Gaga's full-body leather harness in the "You and I" music video, to Beyoncé's leather cone bra in Lemonade.
Zana Bayne and Todd Pendu design the "post-fetish" high-fashion leather harnesses, cuffs, chokers, and handbags. The line has been folded into high fashion and pop culture via collaborations with Comme des Garcons and Marc Jacobs.
"It's for people who like the fetish aesthetic but are looking for something more than what is traditionally sold in a sex shop," Bayne told the Cut. "We take the fetish aesthetic out of its traditional context … For us, we equate wearing fetish gear with punk; wearing S&M gear over clothes as a statement of rebellion."
The duo have also has designed custom pieces for Gwen Stefani, Debbie Harry, and Nicki Minaj. Reproductions or originals of these pieces (as well as Beyoncé's and Lady Gaga's) are now on display at the Museum of Sex through July.
"It's a mutual and symbiotic relationship with the piece and the wearer," the designers said of the celebrity collaborations. "The leather brings something to the wearer, and the wearer brings something to the leather."
The exhibit, fittingly in the dimly lit basement of the museum, also features four mannequins covered in red leather and connected to the ceiling via leather harnesses and leashes.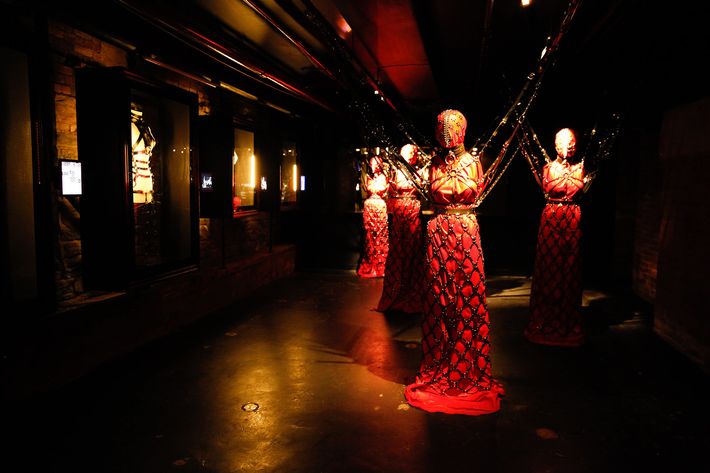 "Leather connotes rebellion and toughness, what could be sexier?"
If the racks of red leather and PVC inspire you, the limited edition run capsule collection pieces that Zana Bayne has designed for Museum of Sex, is exclusively available online and at their gift store. Click through to see the limited-edition pieces.