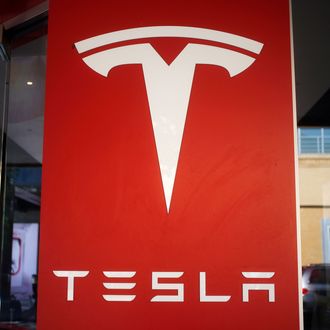 Photo: Bloomberg/Bloomberg via Getty Images
After plans for an ill-advised seminar on essential oils — really, dudes — for female employees on International Women's Day were postponed, Tesla held a town-hall meeting instead, opening the floor for discussions on the company's potential sexual-harassment and gender-discrimination issues. (Founder and CEO Elon Musk was not in attendance.) More than 20 women spoke, The Guardian reports, citing catcalling and being dismissed by male superiors among several pervasive issues.
From The Guardian:
One woman described parts of the factory as a "predator zone" for harassment. When the moderator asked women in the room if they had ever been catcalled, a significant number of women raised their hands, according to Vandermeyden.




Other women allegedly talked about feeling unsafe around male managers and facing sexist remarks from superiors. Women talked about being dismissed and talked over in meetings with no other female employees, and asked questions about diversity in hiring and the lack of women in leadership positions.
Earlier in 2017, Tesla engineer AJ Vandermeyden publicly called out Elon Musk and Tesla for a culture of "pervasive harassment." After revealing that she was suing the company, Vandermeyden was fired, a move her attorney characterizes as "retaliation," The Guardian also reports. Following the town-hall meeting — which was organized by a subgroup at the company called "Women in Tesla" — Tesla executives sent a factorywide email reiterating the company's stance against harassment. "Employees stood up to ask the executives questions, share their experiences at Tesla — both positive and negative — while others spoke of things that they believed Tesla was doing right and some came with suggestions," Tesla told The Guardian in an email. "In some instances, employees were only looking for better collaboration with their HR business partners in general and had nothing to do with any allegations of harassment."
Vandermeyden and her former Tesla colleagues join a growing number of women in Silicon Valley speaking out about the industry's rampant sexism and harassment issues. Back in February, ex-Uber engineer Susan Fowler made headlines after her scorched-earth blog post prompted Uber to conduct an internal investigation, which ended with multiple firings and CEO Travis Kalanick taking a leave of absence. (Officially, he's on leave to grieve the sudden death of his mother.) More recently, Binary Capital co-founder Justin Caldbeck took an indefinite leave of absence after being sued by a former female employee, Ann Lai, for harassment and defamation. And just last week, entrepreneur and investor Susan Wu alleged that Chris Sacca, of Lowercase Capital and Shark Tank fame, "touched her face without her consent in a way that made her uncomfortable" back in 2009. One day before the Times published Wu's allegations, Sacca published an apology to all women on Medium for his previous bad behavior. He later told the Times that he denies Wu's allegations about the incident in 2009.