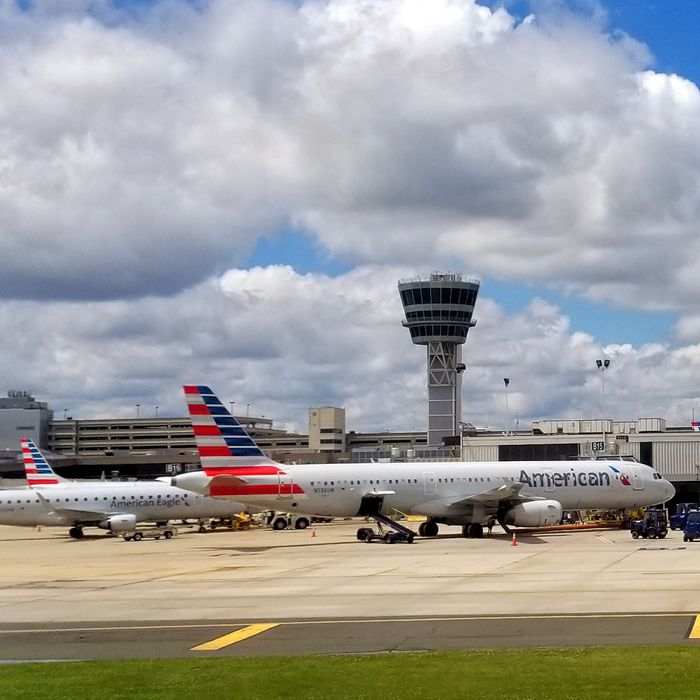 American Airlines is "reviewing" how they handled the situation on the flight.
Photo: DANIEL SLIM/AFP/Getty Images
2017 will no doubt go down as the nadir of commercial air travel. In a Medium post published on July 9, 30-year-old Chloe King revealed that, upon waking up near the end of her American Airlines flight from New York to Paris, she was informed by flight attendants that the man seated next to her had been masturbating as she slept. The woman on the other side of the man had asked to be moved, but nobody had tried to alert King while it was happening. They told her the French police had been notified, and would arrest him when they landed, and that they wanted to let her know.
What they didn't do was wake me up and move me to a safe place. What they didn't do was accommodate my request  —  after informing me of the assault  —  to sit anywhere else on the plane for landing. Instead, they made me climb back over the sex offender, trapped between him and the window for the rest of the flight. I was shaking and crying and trying not to get sick.
After being forced to sit next to the man for the remainder of the flight, King went to the American Airlines counter in Paris to report the crime. According to King, after weeks without any response, she received an email regarding the "disappointing service."
American Airlines, a company whose mottos include "The World's Greatest Flyers Fly American," said in a statement it is "reviewing how we handled the situation on this flight, and have reached out directly to Ms. King."
Ms. King, meanwhile, has reached out directly to all potential American Airlines passengers, urging them to consider other travel alternatives.
American Airlines, you knew what happened was criminal activity —  therefore you had the offender arrested  —  yet you did nothing to stop the man's actions or protect my safety in a horrifying situation. You chose to treat the man committing the crime with far more respect than the unconscious woman sitting beside him. As humans, we deserve more than that. So please, choose any other airline.