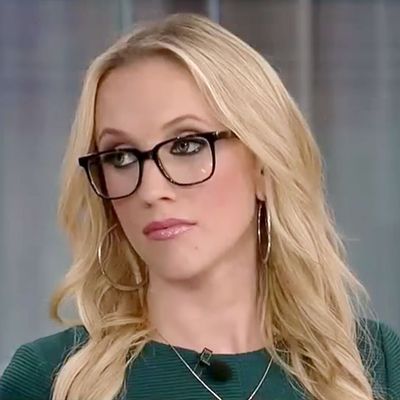 Fox News Specialists
co-host Kat Timpf was assaulted at a campaign event in Brooklyn Monday night.
Photo: Courtesy of Fox News
On Monday night, Fox News Specialists co-host Kat Timpf was at an event in Brooklyn for her friend Ben Kissel's campaign for Brooklyn borough president. Timpf told the Cut that she was waiting her turn to speak when a man she didn't know "walked up, tapped me on the shoulder, I turned, and without saying a word he dumped a giant bottle of water on my head."
"I was stunned," she said. "He very clearly came for this specific purpose. That's what's scary to me: that someone out there knows who I am and hates me that much."
Timpf identifies as a libertarian, which means she gets hate from both sides, she said. She was at Kissel's event to speak about criminal justice reform — there, she said, her views are "more liberal." But she's pretty positive that her attacker wasn't concerned with the issues. "It's all about hating or unconditionally supporting certain people as ideas," she said of today's political climate. "People are objects of hate or admiration depending on what side they're on. We see them as caricatures rather than human beings."
Just after the incident, Timpf fired off a string of tweets that quickly drew the attention of other pundits and reporters.
Many were supportive, but some suggested she was overreacting. "Those people can shut up," Timpf said. "I bet they don't know what it's like to be a target leaving [their] house. This wasn't a water-balloon fight — he was interfering with my ability to give a speech. That kind of anger scares me. It's never good to be targeted."
The whole scene was captured on the venue's security cameras, and Timpf showed the video to police, with whom she filed a report. But she doesn't think they'll do much. "I think they watched the video to humor me," she said. "Maybe I'll just have to wear a raincoat every day. I'll just walk to work in a hazmat suit."