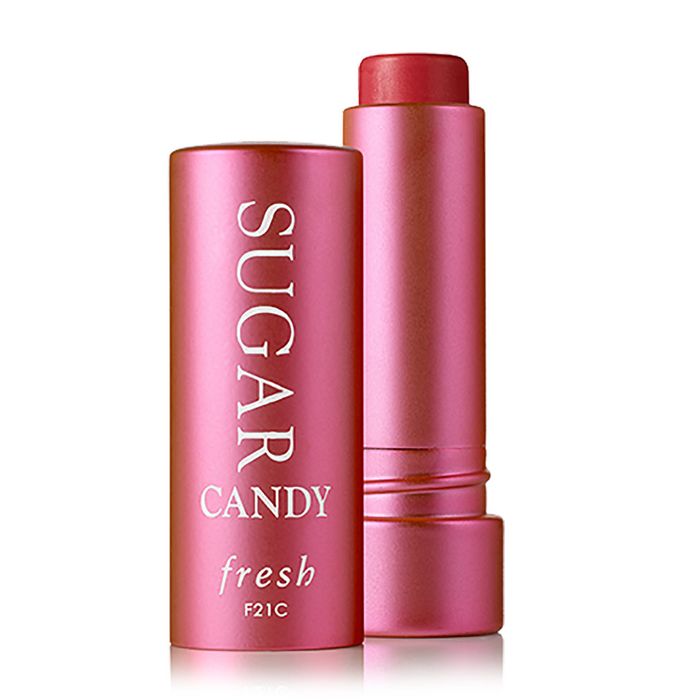 If the current era is all about millennial pink, it was through hot-pink glasses that I viewed the '80s and '90s, when every girl's toy seemed to be the color. Maybe that's why I gave up pink entirely once I became more grown. But everything is pink in the beauty world, and it's not just because the industry is largely geared toward women. Pink occurs naturally in the palette of human coloring. And it turns out that hot pink, especially in lip-balm form, is a particularly flattering shade for almost all humans.
As with many things beauty, I first learned about the power of hot-pink lip balm from beauty editor Jean Godfrey-June, who told Cup of Jo that "it brightens up your whole face." Further evidence of this comes in the form of Fresh's new Sugar Candy Tinted Lip Treatment, a hot-pink tinted lip balm meant to recall the color of cotton candy.
Hot pink might be vibrant, jarring, startling, attention-grabbing, and perhaps best associated with Legally Blonde and Hairspray, but on the lips, it's straight-up pretty. Brighter and more electric than any other shade of pink, when it's done sheer, it infuses the lips with a color that makes your whole face look more alive, and sort of like you've been drinking a sangria infused with a lot of strawberries.
Fresh's version looks particularly great on those with pale complexions. It gives the lips just enough color — but not so much that the shade reads as artificial or frosty. Like all 14 of the other Fresh Lip Treatments, this is one of those rare tinted-lip-balm products that does a great job of moisturizing (with grapeseed oil and even SPF) while giving the lips a hint of flushed color. Make no mistake: this pink isn't millennial. It's just plain hot.