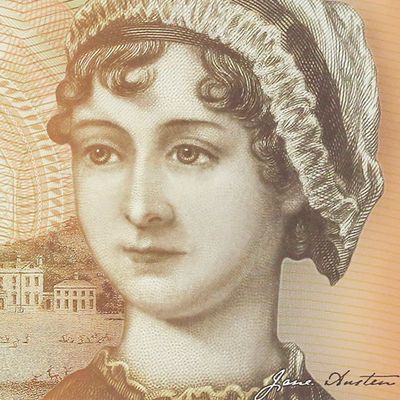 A mock-up of the bank note in question.
Photo: Reuters
This year marks the 200th anniversary of Jane Austen's death. And so, to commemorate the author, the Bank of England on Tuesday unveiled its new polymer £10 note, which features a portrait of Austen and the quote, "I declare after all there is no enjoyment like reading!" The only problem? The quote was said by a character in Austen's Pride and Prejudice who doesn't actually like to read.
As the Guardian reports, the note includes a quote spoken by Pride and Prejudice character Caroline Bingley, who viewed actual avid bookworm protagonist Elizabeth Bennet as her main rival for the affections of Mr. Darcy. The Guardian originally pointed out back in 2013, when a mock-up of the note was first released, that the quote is said at a point in the novel when Bingley sits next to Darcy while he reads. She picks up a book herself and pretends to read herself, while paying more attention to Darcy than the words on the page.
Bingley eventually realizes that Darcy isn't paying her any attention, so "exhausted by the attempt to be amused with her own book, which she had only chosen because it was the second volume of his," she yawns and says the quote in question.
But even though the blunder was pointed out years ago, the quote was still printed on the newly unveiled bill. As the Telegraph notes, the bill will be officially released in September. We can only assume the quote will serve as a reminder that people should actually read something before they quote it.