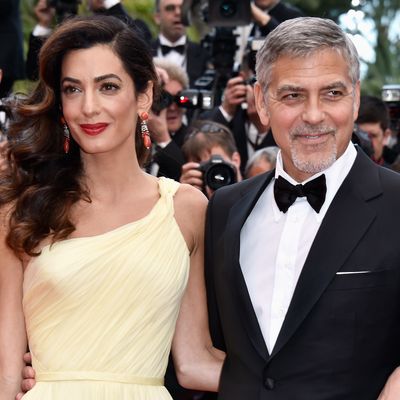 George and Amal Clooney.
Photo: 2016 Getty Images
This morning, the French tabloid Voici published the first blurry photos of George and Amal Clooney's twin babies. The Clooneys, who have yet to release any photos themselves, are not pleased.
"Over the last week photographers from Voici magazine scaled our fence, climbed our tree and illegally took pictures of our infants inside our home," George Clooney said in a statement to news outlets. "Make no mistake — the photographers, the agency and the magazine will be prosecuted to the full extent of the law. The safety of our children demands it."
E! News points out that Clooney has previously gone to great lengths to prevent paparazzi from accessing his estate. Before his marriage to Amal in 2014, he got two protections from the Italian government prohibiting anyone from "stopping on the road outside his villa and the water directly in front of his home." Those protections expired after the wedding, however, and it's not clear if Clooney took similar precautions before the birth of the twins.