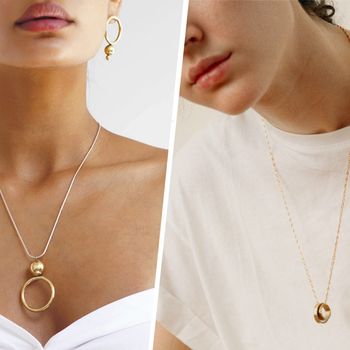 Cheap and Cheerful is a weekly column that highlights the chicest inexpensive finds. Because nothing's more satisfying than looking good while spending less.
Take a good look at the minimalist, indie-boutique side of Instagram and you'll notice something: an abundance of delicate gold pendants. No, they're not those dowdy necklaces anyone can find at their nearest big-box discount store. Instead, they're meant to be worn as a fresh glimmer of gold to brighten up a classic no-frills white T-shirt or deep cleavage-baring blouse. Since I bought one at the beginning of the summer, it's been a critical part of my daily uniform. And similarly, Kim Kardashian and Bella Hadid seem to wear theirs all the time. When paired with gold hoops, it's simple enough that it won't clash with whatever I pull out of my closet, but still flashy enough to give anything I wear a kick. Luckily, you don't have to splurge on fine jewelry to get the same look — scroll below to shop some of our favorites under $100.
A Necklace That Simplifies Layering
You'd think nailing the layered-necklace trick was only a matter of putting on two different chains, but getting it to look right is way more methodical. To make it easier on myself I've resorted to these packs that already get the length and pendant size perfect so they don't awkwardly tangle when worn together.
The One That Always Sells Out
The last few times I've tried to buy this necklace it sold out in a matter of days. Part of its allure is that it's so affordable (just under $40) and the fact that it's from Kenneth Jay Lane — meaning the gold won't rub off after a few wears.
The Unconventional Pendant
If you want to forgo the look of a conventional geometric pendant, this strange wire one is a different way to wear the trend.
As minimal as the gold-pendant trend is, if you prefer to go even more streamlined, Cloverpost's medallion necklace is the delicate winner. Use it as the starting point for more layers or wear it as a small flash of shine against your basic tees.
Laura Lombardi's line of simple yet elegant metal jewelry is a favorite among the minimalist Instagram community and for good reason. The small brand has already amassed a cult following for its Sade-inspired gold hoops, but Lombardi's delicate pendants are also worth an extra peek.
An Artisan Pendant for the Moon Juice Lover
Started by yoga guru Satya, each piece from the brand is handmade and comes with its own mantra.
A Locket That Feels Modern
True story: I have not worn a locket since the age of 10, but this one feels grown-up and non-cheesy.
The ornate pendant design looks like a well-loved antique without the crazy mark up. It's also made out of 14-karat gold, so it has more longevity than something from a fast-fashion store.
If you've never heard of Young Frankk, it's the cool new independent jewelry brand known for its geometric twists. The unusual mix of silver and gold on this necklace means you can wear it with just about any metal combo.
If You Love a Touch of Whimsy
Looking for something a little louder? The oversized faces are a welcomed mix of weirdness.
If you buy something through our links, New York may earn an affiliate commission.