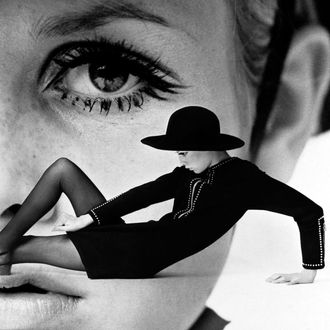 Twiggy pictured in the New York
Times
, 1967, by Gösta Peterson.
Photo: Gosta Peterson
Swedish-born fashion photographer Gösta "Gus" Peterson, one of the most respected names of his era, died Friday* at age 94, his wife Patricia told New York Design Editor Wendy Goodman on Monday. "He died peacefully with his family around him," she told Goodman.
Gösta Peterson's editorial work marked a departure from fashion photography in the 1960s and '70s, as he encouraged his subjects, who ranged from Twiggy to Salvador Dalí to the Boy Scouts, to confront the camera rather than seduce it. "It's so common now to see fashion pictures with, like, a girl in a diner in a ball gown, but at that time everything was still very posed and beautiful and perfect — like Grace Kelly pictures," Peterson's daughter Annika told the Cut in 2015. "Gus was the guy that shook it up. He said, 'Let's put that girl on the back of a bike.' He was trying to get characters, rather than just beauty."
What resulted were mod photos that oozed personality; with a focus on composition and angular framing, his photos were daring, electric, and wholly original. Though Peterson has been largely overlooked by history in favor of names like Irving Penn and Richard Avedon, he pioneered an informal, personal approach to photography. His influence remains undoubtedly present in the work of contemporary heavyweights like Arthur Elgort, a Vogue favorite who got his start as Peterson's assistant.
Born in Stockholm in 1923, Peterson grew up in Örebro before returning to the capital to study and work as an illustrator for an ad agency. He moved to New York in 1948 and was hired to sketch fashion designs for Lord & Taylor, but quickly grew wary of demanding clients. "I didn't want to work with these damn people who scribbled on my drawings," he told the Daily Beast in a 2014 interview. "I liked to have control."
So he set out with a Rolleiflex camera and his innate visual eye, trekking the globe to take samples, mostly of children. Soon, he had a cadre of fashion-related assignments for Harper's Bazaar, the New York Times, and Esquire, among others. He credited his wife, Patricia, for helping launch his career after their marriage, in 1954; a former editor for the the Times and then a vice-president at Henri Bendel, she replaced the department store's traditional ad-campaign illustrations with his photographs, displayed as a weekly half-page advertorial in the newspaper. The couple met at a cocktail party in Westhampton, where Patricia has said she noticed him wearing khaki pants and a nice shirt while watering the flowers, which she described as "unusual."
Gösta's signature sense of humor saturated his shots, whether of a fur-clad woman taunting a slobbering dog with a cheeseburger, or of two young girls caught head-on in expressions of wide-eyed neurosis.
In 2015, Peterson told the Cut: "I selected the people I photographed, and it wasn't necessary that they were really beautiful. It was important that they had a character, and that they had emotion that was interesting. I latched onto that and showed it in my pictures."
See Peterson's photographs from the Turn Gallery's 2015 exhibition "Gösta Peterson: From the Archive" in the slideshow ahead.