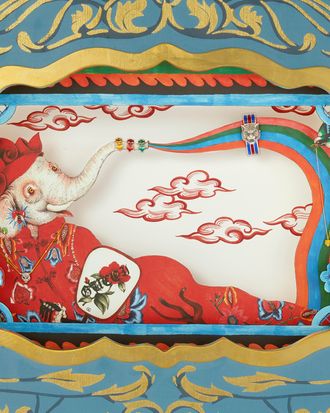 A theatrical set that features Gucci's latest fine-jewelry line.
Photo: Gucci
Given how more is definitely more in Alessandro Michele's world, it's not a surprise that Gucci's newest collection of fine jewelry, Le Marché des Merveilles, is deliciously over-the-top. Combining precious stones and colored enamels that feature the brand's iconic lion motif, the colorful pieces will be on display at their Fifth Avenue store today until July 28. You'll be able to see them set in miniature theater installations that also feature fanciful illustrations by Thai artist Phannapast Taychamaythakool. And if you're not around the NYC area, you can also scroll ahead to see our favorites.
Gucci Le Marché des Merveilles on display now through July 28 at 725 Fifth Avenue
If you buy something through our links, New York may earn an affiliate commission.