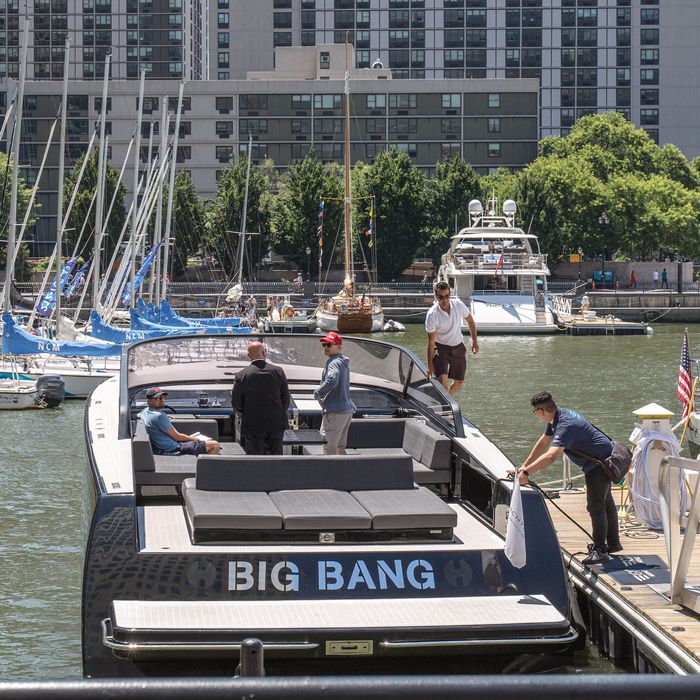 Leonardo DiCaprio relaxing on the Big Bang.
Photo: Empowers Media/GC Images
Leonardo DiCaprio is a 42-year-old man who appreciates the finer things in life: twenty-something models, flavorful vapes, a nice newsboy cap, and most recently, a luxury yacht luxuriously named Big Bang.
Last weekend, Leo (in the blue t-shirt and baseball cap, sans plastic bag) was spotted kicking back on the aptly named yacht in downtown Manhattan with some bros and a book which, if I had to guess, was Tucker Max's New York Times bestseller "I Hope They Serve Beer In Hell."
Despite what its name would suggest, Big Bang is not owned by a rich, horny 14-year-old boy. It belongs to YachtLife, an app which "lets you charter luxury yachts with the tap of a button. No more searching countless websites." (Finally!)
Big Bang is 55' long, and according to the YachtLife website "This sleek and sexy VanDutch was custom made for luxury watchmaker Hublot," and "With carbon cushions, tons of deck space on the bow and aft deck and 2 cabins below, this is the perfect boat for cruising Miami and the islands," or, apparently, the North Cove Marina in New York City.
The raunchy boat holds a maximum of 13 passengers, and smoke and drugs are 100% forbidden, all of which is fine, because there are only 11 members of the original Pussy Posse, and vaping doesn't count as smoking.