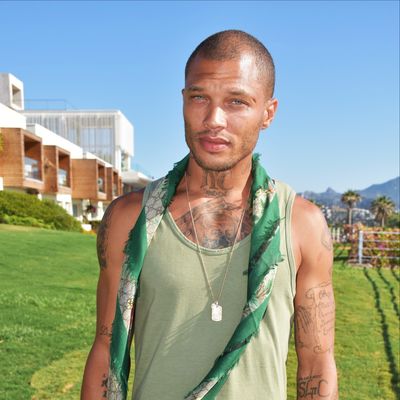 Jeremy Meeks.
Photo: Anadolu Agency/Getty Images
It's been a whirlwind few years for the "Hot Felon." Back in 2014, Jeremy Meeks's mugshot went viral, inspiring mass horniness around the world. After getting out of prison, he found himself with a slate of new opportunities, from walking in fashion week to hanging out with Nicki Minaj at Cannes. And now, in the latest installment of the Hot Felon saga: Hot Felon appears to be getting a divorce.
Earlier in July, Meeks was photographed making out with Chloe Green (profession: Topshop Heiress) on a boat. Unfortunately, Meeks is also married and raising children with a woman named Melissa, who was notified of the photos — how else — by a stranger via Instagram DM.
When he returned home, Melissa tells the Daily Mail:
We had it out on the doorstep. I told him how devastated and angry I am. He kept apologising — not for the affair, but for the way I learned about it. I feel humiliated, not just because my husband was caught with another woman but for the fact they were so brazen about it. He told me, "I didn't mean it to happen like this." Those pictures will haunt me forever. He kept saying, "I'm sorry, you didn't deserve this." We talked about divorce. I told him I didn't think the marriage could be saved. He agreed. The marriage is over.
Ah, the perils of fame.