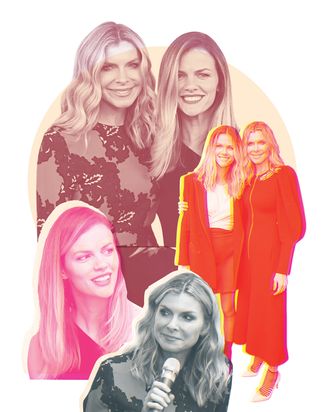 Photo-Illustration: Stevie Remsberg
Model and actress Brooklyn Decker and former CNN anchor Whitney Casey are the best friends behind Finery, a "wardrobe operating system" that catalogs your online buys and manages your closet. Think Cher's famous virtual closet from Clueless, updated for our era of online shopping — it even reminds you when the deadline for returns is approaching, and alerts you when the stuff on your wishlist goes on sale. The site launched in March and boasts early adopters like Lauren Santo Domingo and Leandra Medine.

Decker and Casey met on a "blind-date girls' weekend" five years ago. "We call Whitney 'Happy Holiday Fun' because she is one of those people who brings games, ice breakers, costumes," remembers Decker of their initial meeting. "She was a cactus and I was a tequila bottle; we fell in love." Their company is bicoastal: Casey is based in New York, while Decker resides in Austin and films the television series Grace and Frankie in Los Angeles. The two wake up at 5:30 a.m, receive nearly 500 emails a day, and have been subsisting largely on Postmates since becoming entrepreneurs. Here's how they get it done.
On starting their work day — cross country:
Whitney: I'm up usually by the crack of dawn. I definitely try to work out at SoulCycle, but only with Akin Akman. I would not call myself a SoulCycle person, but he's a type-A human being and his class is impossible. You want to throw up every time. I do it like three to five times per week.
I try not to get to my emails or anything until I'm at work. I like to be the first person in. Last week we had a huge amount of shit going: meetings with the Skimm, Betches, Rachel Zoe, Airbnb all in one day. Brooke wakes up so freaking early, we can start talking at nine o'clock.
Brooklyn: I actually had a 5:30 a.m. call time on set for Grace and Frankie, so I was in hair and makeup when Whitney and I started talking and trying to prepare the site for the Skimm partnership. I was sneaking off and doing all the Boomerangs from set for the Skimm, so we could announce it for our users. Then it was like, "Alright, guys, I have to go memorize lines to actually perform in front of Jane Fonda."
On staying in touch with one another:
Brooklyn: We try to limit phone calls because I think we can be more efficient over Slack or email.
Whitney: Our main way of communicating is Slack. We start a sentence on Slack and then text. I never go five to ten minutes without hearing from Brooklyn — it's really remarkable for somebody who has two jobs. Brooke also speaks with everyone on the design team through Slack. I hate talking on the phone. If I could talk to my mom on the phone more, she would be the happiest human being. She's like watching Instagram stories to see what's happening.
On starting Finery:
Whitney: We always had ideas. We respect each other's opinions a lot — not just on what she wears or what this person is like, but business-wise. During weekends, we would draw website ideas and really flush them out.
Brooklyn: Most of our ideas were about technology, and initially they were around e-commerce because that's what we were so used to being inundated with. Eventually Whitney said, "Wait a second, why are we trying to sell women more stuff? Why don't we actually let their stuff work for them and help them manage what they already own?"
We were really looking for something that could be incredible on mobile, but we also wanted something that doesn't naturally fit into the way that we live. Like most women who are incredibly busy and wear multiple hats and have several responsibilities — to themselves, their spouses, their children, their friends — we wanted to figure out a way to help them manage their time better, to create a productivity tool geared towards giving time back. That way they can spend their time doing what it is that they really want to do.
On working with your best friend:
Whitney: Brooke and [her husband] Andy [Roddick] both get pitched a lot of things. They're smart, they have great business acumen — you think, "Well, who would you go to first with this idea?" You would go to the person that would give you the best feedback, and be like, "Okay, this is what we are going to do." I know people say don't go into business with your friends, but if you find the right one, it can be the best business because they can share some of your pain and frustration. It's empathy-driven.
On getting dressed:
Brooklyn: Well, Whitney's staple is a midi skirt.
Whitney: And Brooke's is overalls.
Brooklyn: I have such a love/hate relationship with style because I admire great style in others, but I can't seem to figure it out myself. The classics — Lauren Hutton, Anjelica Huston, Carolyn Murphy — give me endless inspiration, but I feel like that's innate. You either have it or you don't, and as much as I would love to emulate that, my pragmatic side definitely just prefers sweatpants at the end of the day. The universal thing I love about style is that effortless "I don't give a shit what anyone thinks about me" thing.
Whitney: I approach my style like I approach my career — I push the limits on one or two items on the daily. I really embrace and nurture the differentiators. Therefore, my fashion is never effortless — it is full of trial and error, grit, ambition.
On improvising:
Whitney: The other day, I had to speak at IBM for this design talk, but I was up all night doing wireframes for our partnership with Match.com. I come from TV news, but I couldn't write my 45-minute talk, so when I entered the auditorium I had everybody put a question down on a piece of paper and then spent the entire time answering questions. My mom told me to do that.
On calming down when you're stressed:
Whitney: I think anyone who is starting a company is dealing with different stress on a daily basis, but I think being able to vent to a friend and to be very honest about how you're feeling and why you're overwhelmed — that helps me so much.
Brooklyn: I put on speakers and it calms me down. I have very bizarre taste in music; the last thing on was George Winston. I do love reading — baby life is reading. [Brooklyn's son Hank was born in 2015.] I just finished American Gods and started The Handmaid's Tale. I don't want to turn on the TV, which is funny given that it's my job, but I recently started watching it. I'm not a huge exerciser, I like to be outside.
On what they would change about their work lives:
Whitney: The most frustrating part of the job is we are women making technology. Being women making that product is the most infuriating thing possible. We need more women in tech, we need more capital available for women in technology, and we need more women coding technology. Let's not all make bracelets, clothes, and sell more things. We can do better than that!
Also, eating breakfast, lunch, and dinner. I pretty much don't get an opportunity to sit down and have a real meal and that's been frustrating, so there really is a lot of delivery and old food. Hopefully, I'm not going to get some disease from eating raw bad food.
Brooklyn: For me, I'm hyper-, hyper-, hypermobile and I travel multiple times a week and I think with a child it is really difficult to feel like you're giving enough to everyone. You don't feel like you're giving enough to your job, you don't feel like you're giving enough to your spouse, your child. I think all women sort of feel that self-imposed guilt.
On what makes them happiest about their work:
Brooklyn: I kind of have three jobs. What makes me happy is really for the first time in my life seeming that I have control over something. I think in a world where I've had to audition and my employment has been at the mercy of other people and other people's decision-making, Finery is just such a refreshing change for me. I love that I feel like we are really creating something special that's helping women and that we can really shape the future of our company.
On traveling:
Brooklyn: I travel all the time because I live in Austin and shoot in Los Angeles. I've got packing down to science. I only bring a backpack and a small carry-on and that will get me through the week. I stick to one color when I travel and mix and match. I always bring a pair of Madewell jeans, a pair of flats that I can dress up like a pointy black satin flat, some shirts for meetings, a Blaze blazer — the pockets are very functional — two dresses for dinner and that's kind of it. I probably smell terrible on day four because I'm wearing the same thing over and over again.
Whitney: I do not leave the five-block radius that I live in and work [in]. My life for the past year has been landlocked. The good thing is that I do go to Austin; that's where my husband [Ketra CEO Nav Sooch] lives. I have to be super organized when I pack, so Finery helps.
On how their shopping habits have changed:
Whitney: I probably purchased about 60 percent of my wardrobe online before and now I can truly tell you that I hate buying things in the store, because they aren't automatically added to my closet [via the website].
On their beauty game-changers:
Brooklyn: I'm always breaking out because I'm traveling. I have an acne situation, so I use iS Clinical Active Serum. If I have a red eye, I put it on at night. That way, I make sure that my skin doesn't get those awful breakouts on the flight.
Whitney: I don't leave anywhere without dry shampoo. I hate washing my hair, it takes two hours. Living Proof is a game-changer. If you really want to save time, it's the number-one best ever for oil slicks and sucks the grease out of your hair.
On life after work:
Brooklyn: I get home from work, I put my baby down to bed, which is wonderful, and I order Postmates.
Whitney: I have no food in my house. I am eating guacamole and chips that I ordered from Postmates the night before — it's disgusting. I have a start-up dog [Cowboy], a dog that has never been bathed. It's been a lot of late nights.