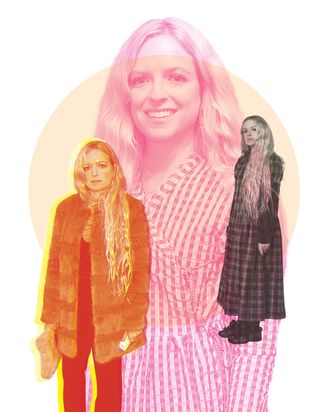 Photo-Illustration: Stevie Remsberg
Hannah Weiland is the 27-year-old fashion designer behind the British label Shrimps (a childhood nickname). Just three and a half years after launching with a single faux-fur coat, Shrimps is one of fashion's most dynamic ready-to-wear labels. It was a finalist for the BFC/Vogue Designer Fashion Fund 2017, and fans include Alexa Chung, Beyoncé, Lena Dunham, and Brie Larson — as well as plenty of street-style regulars. Here's how she gets it done.
On a typical day in her life:
I wake up at 7:30 a.m. in my mews house off Portobello Road, Notting Hill, where I live with my boyfriend, Arthur, and my black poodle, Lionel. I head to my Pilates-and-cardio teacher and then head into the office at 9:30 a.m. I'll get an Earl Grey tea and two boiled eggs from the Italian café in my building and take them up to my desk.
The office used to be in Soho, but Soho prices are not young-brand friendly. Now my office is on Barlby Road, in West London — it used to be an old furniture warehouse. Isa Arfen and Emilia Wickstead are also there. When it's fashion week and we are all there till midnight, feeling really lonely, like it's exam time at school, Serafina of Isa Arfen will text us going, "Aperol spritz?"
Typically, in the morning we will have a fit meeting where we fit the prototypes on to a model, which lasts two to three hours. We'll also examine a fabric I am developing. When I like it, I sing my happy tune — the whole office knows it. For lunch, I might go back to the Italian café for a simple arugula salad, or I'll have a load of sautéed spinach. I'll go into town in the afternoon and have meetings at Soho House, or Blacks, with various consultants and my PR, Daisy Hoppen, who is also my best friend. I do a lot of collaborations — with Danish brand Ganni and Converse — so I'll often meet other designers.
On starting her own company before she'd ever had a job:
I launched my brand straight out of London College of Fashion. I didn't actually intend to start a business. I had one product — a faux-fur coat. It came around because I hated real fur and I found this amazing faux stuff. I thought, I bet other people want this too.
Naïveté helps. If you know everything, it can be daunting. Be knowledgeable about business, be aware, but follow your unique idea. It doesn't even need to be a piece; it could be a fabric. If you do one idea really well, in the beginning, it's a good way to start.
On the one thing she knows she got wrong, and the one thing she's sure she got right:
I tried to make faux-leather handbags too early on — and I didn't have the team, or the right factory, and they were a disaster. It's put me off trying again, I'm not going to do it in the near future, but at some point I will want to do accessories properly. It made me realize you have to have the right structure there for handbags — they are so specific.
I am sure I got my use of color right. Lots of buyers always asked for plain black, and I stayed strong. I think that was the right thing to do.
On watching her brand take off:
Shrimps now has 91 stockists. We have factories all over the world. Our silk from India, our faux fur is from Lithuania, our knitwear is from Scotland, our fabrics from Italy, and I get stuff made in Portugal and Poland, too.
It's only been three and a half years. It felt really amazing to watch that happen. Some of my first stockists were my very, very favorites: Opening Ceremony, Net-a-Porter, MatchesFashion.com, Avenue 32, Dover Street Market. Dover Street has been my favorite store since I was a little girl.
And then we started expanding into that high-level tier of stockists around the world. You learn so much about shopping in other cultures, like Korea and Japan. It's exciting having a worldwide presence.
On being your own brand ambassador:
Building the brand was just an extension of myself. I wear Shrimps every day — I have 25 of my own faux-fur coats. It was easy to move from the coats and clutches into ready-to-wear, because the brand identity is quite strong. My set designer, Suzanne Beirne, is one of my muses. She was a visual merchandiser for Prada and Miu Miu and her wardrobe is insane.
On what she looks for when she hires:
As my team is bigger now, I have lots of people helping with the business and the sales and that has helped me focus on building the brand. I now have 12 people working for me. I look at their personality and check that they are positive, friendly, and amicable and they will get along with everyone. They have to really love the brand and be interested in fashion as a whole.
On making sure her employees get along:
We do karaoke, we go bowling — we tried to rent a barge in the summer but we were too late booking it. We wanted to play rounders but it rained. We go to the pub, and on Thursdays and Fridays we have a gin-and-tonic in a can, at our desks. It's really fun doing those "classic office" activities that corporate offices do, to bond, but we're not this corporate office. We all strut out in big gingham dresses and fluffy coats. And at Christmas time, you see the other office parties bowling, and they're all in suits and we're all there, giggling.
On her own style:
Alongside my own stuff, I wear a lot of Comme des Garcons dresses and I have a huge collection of Breton stripy tops. I walk to work, so I'm a trainers-by-day, heels-by-night kinda girl — usually satin Miu Miu flatforms. I'd describe my style as feminine but casual. I denied myself pink as a kid, I was a real tomboy, so now I get to indulge.
On having hair like a mermaid:
I've had really long hair since I was 14 years old. I get asked about it all the time — sometimes I get heckled on the street! It's a great conversation starter. I plait it every night to stop it getting too knotty and hair oil is my most essential beauty item.
I like my hair, but I don't love it. It's so knotty, it gets stuck on everything. It gets stuck on door handles and traps me. I'm so used to my hair, it doesn't affect what I wear. I do sometimes tie it up in a big bun. But I have to use a special technique, with a big pin, as hair ties fall apart. They're too flimsy for my hair.
On the pitfalls of running your own business:
I feel really lucky; there is nothing I hate about my job. But you have to love this job to do it — there's a lot of human error. Production might be late, which means I deliver to all my stockists late. Samples get delayed, or arrive in the wrong color; prints can come printed on the wrong side of the fabric. Cash flow in fashion is notoriously hard, so that puts me under pressure. But I'm in every single business meeting.
On how she likes to relax:
I'm not a stressy person. I get more hyper than I do stressed. But being relaxed is my favorite feeling in the world. For total relaxation, I like to take a bath with Dr Hauschka bath oil. I bathe about once a week, but I shower every day, in case you were interested.
On being obsessed with the British artist Grayson Perry:
Every collection of mine is inspired by art. I'd like to curate an exhibition like J.W. Anderson's exhibition "Disobedient Bodies" at the Hepworth Wakefield gallery. My dream has always been to collaborate with Grayson Perry. I wrote my college dissertation on him when I was at Bristol university, before I went to LCF. I named my first ever clutch bag after him, a faux-fur "Grayson" — and I sent him one. He bumped into a friend of mine and he said, "Will you thank Hannah, but please tell her that it needs a strap — as otherwise I will leave it in the pub." I should make him one with a strap, really.
On how she ends her days:      
If I'm eating out with friends, I love Bill Granger's restaurants in Notting Hill or Kings Cross, or I'll go into Soho for dinner at St. John, they do amazing fish — or over to East London for dumplings at a sweet little restaurant in Clapton, called My Neighbours. I saw Grayson there once and went bright red.
I have a Kindle, but I feel a bit sad about it because I love actual books. I read Sapiens recently and I love science fiction by John Windham. When I'm ill, I turn on my wood-burner stove and get out Harry Potter. I try and go to bed at 10 p.m., but that never happens — I'll be too busy researching on my iPad. To be honest, I'm normally looking at work by Grayson.