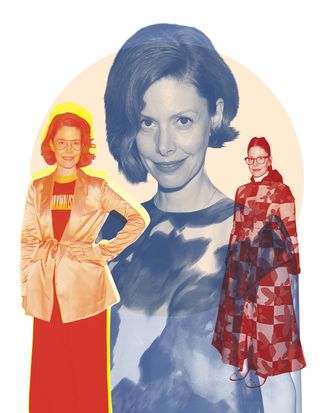 Photo-Illustration: Stevie Remsberg
Christene Barberich is the global editor-in-chief and co-founder of Refinery29. She has nearly 60,000 followers on Instagram and hosts the UnStyled podcast, which explores guests' life stories through what they wear. She travels frequently for work and is a mentor-in-residence at the School of Art and Design in Savannah. She receives upwards of 200 emails a day, but always strives for inbox zero. Here's how she gets it all done.
On her complex morning routine:
I generally get up around the same time — between 6 and 6:30, depending on what time our cat wakes me up. Over the last few years, I've gotten really devoted to grinding beans and actually making proper coffee in the morning. I also love fresh-pressed juice. I have the whole routine down to a science: I feed the cat, make a juice, grind the beans, make the coffee, and transfer the big jug of almond milk in the refrigerator into little vintage creamers. I'm obsessed with these mid-century ceramic creamers that I find at vintage markets. I think they make having coffee a little bit more special. My husband thinks they're ridiculous.
I'm very big on supplements. My refrigerator is literally a selection of designer probiotics. I have containers of fermented yogurt, and the Inner-Eco brand of fresh coconut probiotic. I find it to be very effective. Breakfast is always something savory. I take a shot of aloe water, then I'll make a salad or a fried egg over avocado, mostly because I don't do well with gluten. I'm very into Bragg's olive oil, I put it over everything.
When you have so many demands in your schedule and you're really trying to stay physically fit and maximize efficiency, whatever I can do in small ways, I do. I feel like I owe it to myself to take the time to build these things into my routine, though I'm not super loyal to any one regime. I like to switch things up. I remember going to Moon Juice in L.A. and being overwhelmed by all the dust products she has. I got really interested in all of that but I put it on hold because I think that's a direction and a lifestyle you have to commit to. Some day I'll try it all.
On the two most important meetings of her day:
When I get to the office, I start off answering emails, then I have a 10 a.m. meeting with our chief content officer. Her schedule is probably even more packed than mine is. She has this separate room called the "content cabana," where we meet and go over different kinds of updates as they pertain to different teams. We'll check progress on our global content calendar, staffing shifts, and any other events. There are constantly new projects and developments, and that meeting is a constant surveying of what's coming, and what we want to prioritize. It usually lasts an hour, but in all honesty, it could be three.
After that, another typical meeting I'll have is a co-founders and direct reports meeting, which is a gathering of executive team members across all departments in the company. We talk about long-lead stuff, whether it's budgets or different kinds of category launches, internal cultural things, events, company priorities, what we're dedicating ourselves to, and how we're talking about things.
On how she stays confident about the many decisions she's asked to make every day:
There is so much on the line when you're running a company and you feel accountable to hundreds of people, to millions of readers and users. It's a constant struggle to not be impulsive with decision-making, but also trust your gut and make a call on something when you have to. You want to be diplomatic and you want to make certain decisions and close loops. You have to trust yourself. You have to make sure that you're talking to the right people to make sure they're feeling included.
On how her role has changed since she started Refinery29 in 2005:
As a co-founder, I've evolved in parallel with the company and its needs. I used to edit every piece of content that went up, but now we're making upward of 100 stories a day. I really make sure that when I'm needed, I'm available to our editors, in terms of giving them support or guidance. The industry is changing so quickly so it's important to encourage adaptability. You want to be thoughtful and make meaningful changes but it can be kind of energy-draining if you spend too much time laboring over certain decisions. I help people to make really decisive decisions about how to best move forward.
On her "boring" desk lunch and how she powers through her afternoons (without coffee):
I usually eat at my desk, which I know is really boring and not healthy but it's pretty efficient. I usually eat the same lunch every day: a kale salad and a Mother Earth green juice. As long as it's gluten free and moderately healthy, it's fine. Then we go back to more meetings. I've been doing a lot of speaking engagements lately, so usually I'll work in the afternoon on prepping questions. I'm generally doing one or two speaking things a month. Also right now we're in the next season of UnStyled podcast. We're working on the lineup of guests for season two and that takes an hour here and there.
I don't drink coffee after 10 a.m. I like to have some Kusmi green tea in the afternoon. It doesn't make me feel hyper or anything, and tea is good when I have to write and think about language and be decisive in putting together questions and points of view. Then between around four and six, I'll go to show appointments. I try to push all my appointments to the end of the day; otherwise I lose so much momentum on catching up on paperwork and important meetings.
On the obsessive journaling habit that she's kept up since she was 18:
I write in a journal every morning, before or after checking emails. There's something very ritualistic about keeping a journal. Sometimes I'll write for ten minutes, sometimes longer. I write anywhere from three to five essays a year for Refinery, and when I'm working on them, I'll use my journal to work through thoughts.
I've been journaling since I was 18. I used to use Mead journals exclusively. I had to get a storage unit that accommodates them — I have so many. I use them to document my life, to collect ephemera. I'll put a play ticket stub in there, Polaroid pictures from travel. I still have my Europass from my first backpacking trip through Europe. It's kind of ridiculous.
Sometimes I'll sit in the storage unit and dig out journals from 1997 and 2005 and see what was going on. There's a lot of anxiety in those journals about whether I was going to get the job, or if I was pitching a story, questions about how heavily my editors were going to edit it. Sometimes I wrote about love. There are a lot of themes in there that continue to track through the years. I think a lot about what would happen if I got hit by a car suddenly — what would happen to those journals?
On how she handles criticism in the media: 
The industry has become so sensitive. There's a lot of judgment now, so we have to be super super careful about phrasing things. It's harder to be spontaneous because of the reactions we're fearful of getting. Navigating that is all about being yourself, being true to your instincts, and being careful not to exclude anybody or have your thought come across the wrong way. If you do, you have to roll with it, you have to be tough. Especially if you're a creative being. Even if you have the best of intentions, it can be tough sometimes. Social media has made things very challenging.
There has never been a better time for more junior people to have a significant voice in traditional publishing, though, which I love. It's a much more democratic space. It creates more of a dialogue.
On how she stays efficient even when she travels:
When I travel, I never just go to one place. As an example, I flew into Milan and met our head of sales recently. We had five or six meetings that day. The next morning, I was headed to the airport to go to Berlin. I took our team there out for dinner — it's been one year since our Germany site launched. Then I got on a plane, went to Helsinki to meet my husband and we scheduled a tour of the Marimekko factory. That's a typical trip for me — four cities, eight meetings, and seven days. During fashion month, it's even more intense. We'll have 20 appointments in a day. It's exhausting.
I try to pack really creatively and economically because it can be a huge headache if your luggage gets lost or delayed. The only times I check a bag are for trips to Milan and Paris. I would try not to, but I really do love wearing different kinds of coats and boots. No matter where I go, though, I always bring lavender spray. I'm a total spritzer. Whenever I ask anyone, "Who wants a spritz?" everyone always says yes.