Because no two paths to parenthood look the same, the Cut's How I Got This Baby invites parents to share their stories. Want to share yours? Email gotbaby@thecut.com and tell us a bit about how you became a parent.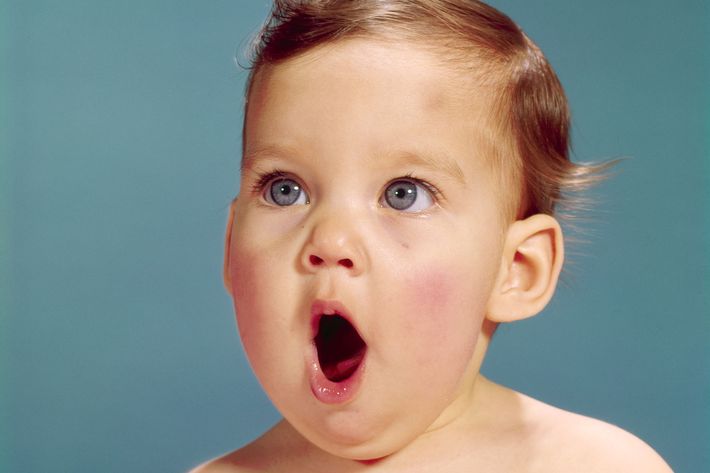 Mila and her partner moved to California, far from their families, when they were in their early 20s. When Mila became unexpectedly pregnant soon after, the couple had different reactions, but remained committed to each other and their dreams. They stayed that way through the outcome of Mila's first pregnancy, which she says introduced her to a secret sisterhood. She describes the way she felt when she found out she was pregnant, the reason her partner held her ears during labor, what 16 weeks of bedrest felt like, and what she thinks influenced her 5-year-old daughter's sense of humor.
On committing in her early 20s. I met my partner when I was fairly young — 19. We fell in love, hard. When I was 23 and he was 22, we moved to Los Angeles to follow our dreams. But it wasn't easy: I was working as an assistant to a wealthy family, and he couldn't find a job and was taking night classes. Lo and behold, three months after we moved, I got pregnant.
On reacting to an unexpected pregnancy. I was over the moon. I was so excited. I really didn't think it would be so easy for me to get pregnant. When I was younger, I saw a top endocrinologist who told me I'd probably have to do hormone therapy to get pregnant. Plus, I was still on birth control — though, to be honest, I was kind of irresponsible with taking it. I wasn't really doing it right.
But my partner was freaking out. He kept saying he didn't know how we were going to make it work. His family, though, was very supportive of the pregnancy. My family believes the way to keep a marriage together is to have babies — I have seven siblings. But that didn't mean they were going to help us financially. We'd be on our own.
We were broke, pretty much. I got insurance through Medi-Cal. When I was pregnant, I did what I always did — I worked hard. I ran errands, picked up my boss's kids, cooked dinner. I'd leave home at seven in the morning and come home at seven at night. We lived like kids; our mattress was on the floor. But I really believed in my partner. I thought we could make it work. He stayed pretty freaked out. The one thing he seemed calm about was the possibility the baby might be a boy. He wanted a boy so bad.
On the scan that brought on an eerie feeling. At the 18-week scan, we were having a 3-D sonogram and they said, "Congratulations! It's a girl." I was so excited — as long as it was healthy, I was excited. I turned to look at my partner and he was crying. I was like, Oh my fucking god. You're crying right now? You're crying because you didn't get what you wanted, the boy? I had this strange, innate feeling, like, I'm not going to have this baby.
Afterward, we got in a massive fight in the parking lot. I told him, "If anything happens to this baby, I'm leaving you." We made up and got over it, but there were still some feelings of resentment — I felt far away and disconnected from my family, I was fighting for our relationship and for his dream. I was working like crazy.
On anticipating a babymoon. Those months were really hard, so I thought: Let's take a babymoon. We're not going to be able to do any traveling for a long time after the baby's born, so let's do a trip now. My mom works for an airline and said she'd get us a ticket to Hawaii. Everything was going fine; I was carrying great. I was four months along. I'd been posting pictures of myself pregnant, all the time — you know, this is my bump, this is how cute it is. My whole Facebook feed was this.
The Friday before we were supposed to leave for our trip, an acquaintance asked me to spend the day with her. We were going to go shopping, get our nails done, that kind of thing. I didn't feel great when I woke up that day, but I still wanted to go — I'd budgeted for the day, and I wanted to treat myself. But even then, I had to force myself to go. I was exhausted.
After about a half an hour of shopping, I had to stop. We went to get our nails done, and I was thinking it would be better, once I sat down. But the fumes got to me; I felt even worse after it was over. But that acquaintance was persistent, and we went to get ice cream before parting ways. I met up with my partner and we were walking around the grocery store when I finally said something. I have borderline endometriosis — I know what pain feels like. When you go through that amount of pain during your period, nothing really fazes you. We decided just to take it easy for the night.
On what made her doctor's face go pale. The next morning, I had spotting. But it was a Saturday and my doctor's office was closed until Monday. We called a family friend who wondered if it was the mucus plug — so we just stayed put. We didn't go on our trip. It was a very subtle spotting, though. I don't know that I would have noticed it if I weren't neurotic.
When the doctor checked me on Monday, his face turned white. He was like, "You need to go to the hospital right now." He said half of my water bag was out.
I freaked out. I felt like I was the one who'd done this, since I'd had the feeling of not wanting to have the baby during that scan. I kept asking what the chances were this was going to be okay. He just looked at me and said, "Fifty percent?" But it seemed like that was optimistic, and most likely not even that.
They rushed me to the hospital. It was one of those crazy things: We were trying to stay positive. The baby's heartbeat was good. The doctor at the hospital came in; she had these cherubic blonde curls, and her name was my name. She was like, "You have two options. We could wait this out — you could put your legs up and we'll check you for bacteria. You might be able to hold out for another day or two. But not only will that probably kill the baby, but it could kill you."
She said the other option was that I could go into labor, and there was a possibility the baby could survive, but the chances were very slim. The doctor told us that if we'd gone on our trip, I probably would have died on the plane.
I think as humans we go into shock: I went into this intense, survivor mode. I'd been fighting with everyone, insisting everything would be fine, and at that moment, I decided to give birth. My partner asked me why I wasn't crying or being emotional. I just told him that it wasn't meant to be. I completely shut off.
On being in labor. But when I was in labor, I did feel it. I started crying. The baby was 100 percent healthy. It was my body that was failing. I was the one who couldn't carry the baby.
My partner was holding my ears so I didn't have to hear the noises. But I listened once the baby was born, because there was a smidgen of hope she'd survive. She didn't. I was so young and stupid — I didn't want to see or hold her body. For years, I regretted that decision.
I just remember waking up the next day, and my partner asking if I was okay. The answer was no, obviously: My back was killing me, I was constipated, I was 20 pounds over my usual weight. And I was so, so sad.
On the stakes of a $100 bet. Life went on. I had terrible anxiety; it was hard to leave the house without feeling like everything was falling down on me. But we were trying. My partner had started making money. I just remember being in a daze, until my partner started applying to school. We both worked hard on his application; I threw myself into helping him. A week after he turned it in, I started feeling horrible — my body felt bad, I felt like I was going to die. I had cramping, and I was falling asleep all over the place. I hadn't gotten my period.
But every home pregnancy test I took came back negative. I took about 12. One morning I woke up and I felt bloated and nauseous and I turned to my partner and said, "I really think I'm pregnant." He thought there was no way.
I took the last test I had. We were both waiting in the bathroom, and he bet me $100 I wasn't pregnant, with the added condition that I wasn't allowed to buy more tests if he won. The test came back positive. We just looked at each other and were like, Fuck.
He was 24 then, I was almost 25. We were freaked out: He had just applied to school, I had just lost this baby the year before. My head kept going to all these places — I'm going to fail this baby, too, I'm a baby killer now. What were we thinking?
On learning a body part is "incompetent." During my second pregnancy, the doctors were like, "Hmm, you might have an incompetent cervix." I was like, What?
They explained they usually just monitor for three or four pregnancies, but if you lose a baby from week 18 to 26, they'll measure your cervix, which is supposed to decrease in size as you get more pregnant but should hold everything together until you're ready to go into labor. Some people, though, have an incompetent cervix that just doesn't do that. So they tie everything together with a cervical cerclage.
I got mine at 20 weeks. Usually, people who have a cerclage are put on intense bedrest for the rest of the pregnancy; that was my experience. I was in bed, all the time, watching Parks and Recreation and The Office and trying not to have anxiety attacks about going into labor.
When 36 weeks hit, I knew that I might be able to get my cerclage removed — because they can do around then, when it's safer for you go into labor. I was so uncomfortable: I'd gained 65 pounds from just lying there — I just wanted the cerclage out. I was so relieved once it was.
On other people believing she was in labor. The morning after my cerclage was removed, I was drinking coffee and hanging out with my mom, who'd come to help me through the last part of pregnancy. My mom wanted to go shopping for the baby — we were in Target, and I got a Braxton Hicks contraction, or what I thought was one. All my mom had to do was look at my face to know I was in labor.
But I just thought there was no way I was in labor yet. At home, my partner saw me have a contraction and he thought I was in labor too. He thought we should go to the hospital. I told him I just wanted to watch some TV. By the grace of God, my remote didn't work.
At the hospital, they said they'd check me but were sort of rolling their eyes, like, Okay, fine. When they checked me, the mood totally changed: I was seven centimeters dilated.
Over the next few hours, I went from seven to nine centimeters. It was February 13; my mom was like, "Just wait until midnight, you'll have a Valentine's Day baby!" And I was like, "I'll try, I'll try!"
I gave birth to a healthy, five-pound baby girl, four minutes before Valentine's Day. Since she was a little early, she had to go into the NICU for jaundice. But overall, she was fine. That was five years ago.
On thinking about both pregnancy outcomes. For a lot of women, I think pregnancy loss is really difficult — there's a lot of guilt with miscarrying or losing a baby, and when it happens to you, you find out about this sort of secret sisterhood. Every woman I told about what happened seemed to have a story, like it was their ticket to finally talk about it. I'd say, "I lost a baby," and they'd say, "So did I." And it wasn't like they were interrupting, or trying to make it about them. It was like they were trying to share in the pain.
The loss I had made me understand myself more, and able to empathize with other people in a better way. I think there should be a lot more places where women can talk about their guilt, the feelings like I had, that they were responsible or caused what happened. When there would have been no baby in the end, no matter what.
Looking back, I think I learned not to believe in accidents. Everything was a lead-up to how perfect everything was going to be. My daughter is one of the funniest people ever — I credit that to having to be on bedrest, watching Amy Poehler and Steve Carell. She started off small, but then she got huge — she was 28 pounds at one year. She's the tallest one in her grade now. I was lucky: It all worked out in the end, for me as a mom.