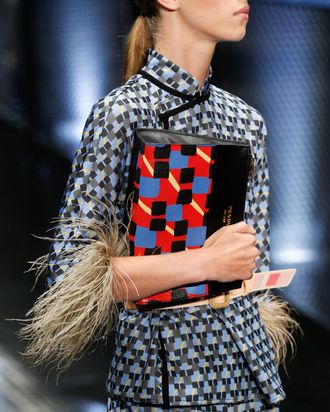 Once in a while, a trend appears on the runway, trickles down to your local mall, and then lodges itself firmly inside your brain. Now Trending is our weekly roundup of where to buy that look that's been haunting you.
Feathers are a fun trend but most people don't automatically think they can incorporate it into their closet. But leave it to Prada to make it seem super desirable. The embellishment first popped up at the Spring 2017 show, where it added a festive touch to sleeves or on shoes. Featuring clashing '70s-inspired prints, Miuccia doubled down on feathers, with 38 out of the 49 looks covered in them and even carried over styles into the Fall 2017 show. That's a good sign that it's a trend that's going to stay around for a while.
So how do you make it your own? In doses. Try a shirt with a feathery trim that can be worn with high-waisted black slacks or jeans. If you're looking for something more subtle, earrings are the way to go. Or perhaps you want an unusual mini bag that combines chains and feathers? Scroll ahead for ideas on how to get in on the trend at every price point.
If You Don't Want to Spend a Ton
At $40, this is an affordable way to try the trend without any regrets. Plus, the sky-blue shade looks especially expensive.
Original Price: $80
A Prada Look-alike in Extended Sizing
This Eloquii top is very inspired by Prada and is available up to a size 24! It has a great swingy shape to it and would be perfect for a night out.
Original Price: $75
If You Want Just a Fun Touch
Photo: REVOLVE STILLS #2
If you're into the trend but not sure how to add it into your wardrobe, these feather-pom accented earrings are a good starting point — they're a playful exclamation point for any outfit.
A Knockoff That Isn't Scary Looking
Photo: afront
Feathery shoes can look like they're part of a Halloween costume, but these affordable sandals look luxurious.
If You Want Something Less Girly
It's no secret we have a thing for tiny bags and this one has a nice juxtaposition of cheerful feathers and chain hardware to give it a harder edge.
This is one of the biggest splurges on this list, but this skirt is one of those items that you can whip out when you have a fancy event.
If You Want the Real Deal
For the purist who wants the original, nothing is better than these straight-from-the-runway slippers.
If you buy something through our links, New York may earn an affiliate commission.