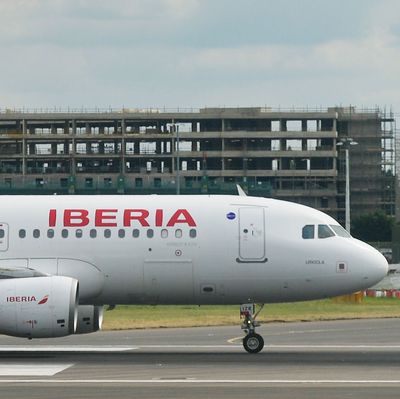 Iberia.
Photo: Artur Widak/NurPhoto
The Spanish airline Iberia was recently fined for discrimination after it was revealed that the company was forcing its prospective female employees to take pregnancy tests before getting hired, the New York Times reports. Iberia claimed the tests were a safety precaution, but both government and union leaders slammed the practice for being sexist, and the airline agreed to stop administering the tests this week.
Iberia said in a statement that it would stop requiring female job candidates to take pregnancy tests after it was fined 25,000 euros, or $28,000, by government officials in the Balearic Islands. The Times notes that the pregnancy tests were one of a series of tests potential employees had to pass before they could be hired, which includes an overall medical test.
Iberia claimed in a statement that it did not reject any qualified prospective employees for being pregnant. According to a statement, six pregnant women applied for jobs this year in the airline's handling division and five were hired, while one was rejected after failing an airport driving test. The airline added that it has strict rules to ensure pregnant employees' safety, including moving female cabin workers away from flying duties as soon as they are notified of their pregnancies. In the past month, at least 32 female cabin workers were assigned to different jobs due to pregnancy, the statement said.
One of Spain's two major labor unions, the Unión General de Trabajadores, told the Times in a statement, "There's no reason to justify it," and went on to say that if pushed, "we would evidently be faced with a clear case of discrimination."