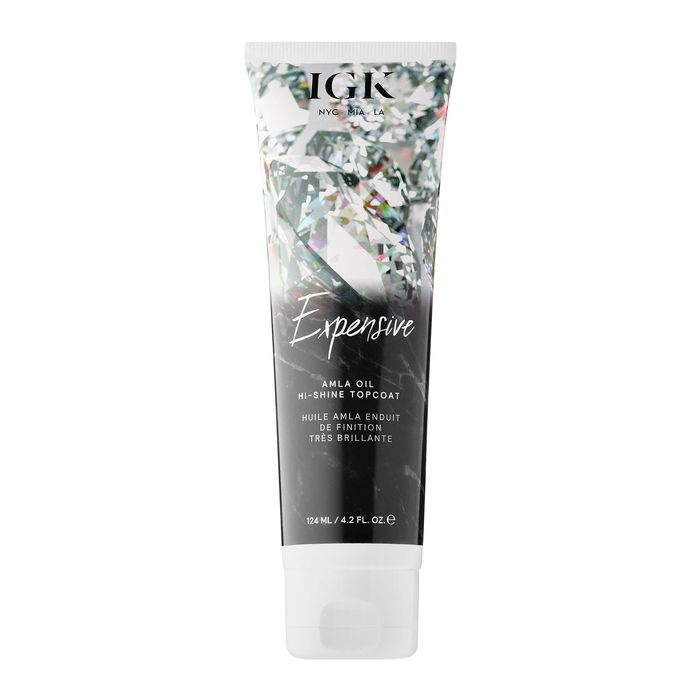 Things that are enviably shiny: Kim Kardashian's cheekbones. The gleamy, golden glow you see from a plane window of sunlight reflecting on an ocean. Jennifer Lopez's knee in pictures. An African berry plant called Pollia condensata, which was once designated the shiniest thing on Earth. And, for the past two weeks, my hair. I'm not trying to brag, but recently my hair has been gleaming like a freshly popped glazed Toaster Strudel (try them, they're delicious) and it's all due to switching in a new conditioner. [Editor's note: She's not lying. It's so shiny.]
IGK's Expensive Topcoat, a new conditioner-mask-gloss hybrid, comes from the salon and the stylists who brought you Jared Leto's glossy ombré. It's a lightly scented fluidy goo that you add after you shampoo or as a mask. It's easy to use — I left it in for a few minutes, and it rinsed out without much tugging or dragging on the hair. It instantly detangled a strange knot that I found on the back of my head, and it added an almost unnatural softness to my hair, giving it a silky, sea otter-like feel.
When it came time to dry, my hair fell in easy, light, smooth layers, with each one looking subtly defined with shine and bounce. Not to steal another brand's slogan, but it was easy and breezy, and I got the same, simple outcome every time I tried it. It's been looking so shiny that I've even been able to narcisstically admire its reflectiveness in windows.
IGK attributes the shine to a mix of ingredients including Indian gooseberry or Amla oil, which moisturizes like coconut oil, and a small dose of sea-kelp extract. Eagle-eyed label-readers might also attribute the shine to a form of non-water-soluble silicone known as dimethicone, which is the second item listed after water. Given silicone and dimethicone's reputation in the beauty industry for increasing "build up" and for weighing down hair, you may not want to use this conditioner every day. But it makes your hair so shiny that you might choose not to anyway, unless you want to constantly be answering, "What highlighter is your hair wearing?"
If you buy something through our links, New York may earn an affiliate commission.