It's a late June day, and the cast and crew of Insecure have taken over El Compadre, a kitschy Mexican restaurant in Hollywood, to film a scene for the finale episode of season two. Extras are milling about in their holding pen, eager to play the part of "human ornament in the background" or the "why is that guy making that face" guy. Jay Ellis, the actor who plays Lawrence, is lounging in a director's chair. I haven't been on many TV sets, but I can tell this one is better than average, and it's not just because of the presence of Ellis. This set is more than just a set; it's a place where Black Girl Magic has burst free from the internet and become a living, breathing, joyous, multiheaded organism.
While I sit waiting for Yvonne Orji to finish a run-through of today's scene, I take in my environment. I'm surrounded by the coolest black women I've ever been in a room with. Melina Matsoukas, the show's executive producer and director, passes through the monitor bay; she's in overalls and looks really good in them, an achievement almost more impressive than directing a hit show. The conversation a writer and the props master are having about a glass of water might actually be funnier than the joke they're trying to execute. A producer named Deniese Davis introduces herself to me, notes that we have the same last name, and jokes that we could be related. ("Sister-sisters, not sistahs, but we could also be sistahs," she says.) The show's creator and star Issa Rae pops by and everyone loves her skinny, tan chinos (she isn't sure about them). Then Kerry Washington quietly walks in to observe; she's shadowing Matsoukas. I want to ask everyone where they got their braids done, where they're going to happy hour after work, and whether I can come. The room is pulsing with creativity and vitality and friendship and success. It is alive! It is ecstatic! It is black as hell!
Everything that's on display right now — black women being black, being friends, being themselves, problem-solving, riffing on pop culture, ogling Jay Ellis — makes Insecure what it is. The show blew open how black women and their lives are portrayed on-screen, and the character of Molly Carter, best friend of Issa Dee (played by Rae) and resident single girl, is one of the main reasons why. While Issa grapples with a stale long-term relationship and stalled career, Molly has a dream job at a law firm and an endless parade of suitors, who she manages to alienate in her pursuit of a romantic fantasy. "Lovelorn career lady" is a standard rom-com archetype, of course, but rarely is a black woman the one having the wine-soaked breakdown. And the person responsible for the heart and humor that buoy Molly's neuroses is Yvonne Orji — a devout Christian, Chris Rock–approved stand-up comedian, and the fastest talker I've ever met, who's also about to dominate the second season.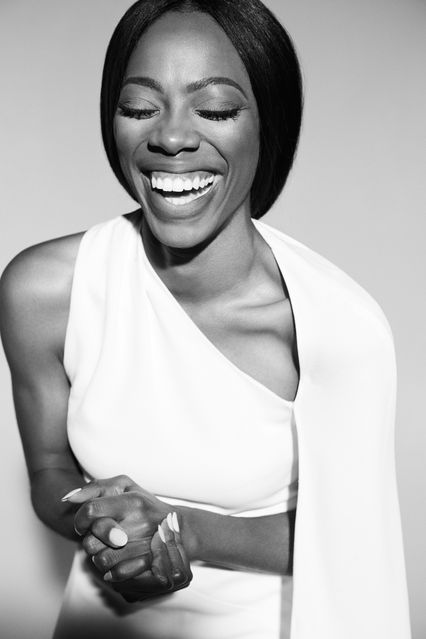 Orji finishes marking the scene and getting notes from showrunner Prentice Penny, then shuffles over to me in her costume for the day: a sleek, blunt lob wig, a sharp yellow blazer, white jeans, and a few delicate rings spread across her fingers. Except for the fact that her outfit ends in a pair of crappy white bathroom slippers (she's sitting during the scene), it's a quintessential Molly look.
"Hey, Jay! Jay! Am I like Molly?" Orji calls over to Ellis, as we begin discussing her character.
"I don't want to get involved!" he protests. "But okay, you always look amazing. You're a great friend. You're a great support system and a great person to call for advice. It's real talk. Molly does that for Issa."
Molly is "sort of bad and bougie," says Orji. In contrast to bougie forerunners like Hilary Banks (from The Fresh Prince of Bel-Air), though, we get to see Molly code-switch, moving seamlessly between her super-white law firm and a club night. Orji's warmth and humor keep the character grounded. With her great taste and great wigs, Molly could have seemed like a snob, but she's played by an actress who still lives with a roommate and buys peanuts from the 99-cent store.
And, also unlike Molly, Orji doesn't date much. That's in part because she "doesn't really like" dating, but she says it's also because she's being realistic; she's not "the chick everyone would want to date," she says. "I'm not smashing. I'm not naïve. I know it's 2017."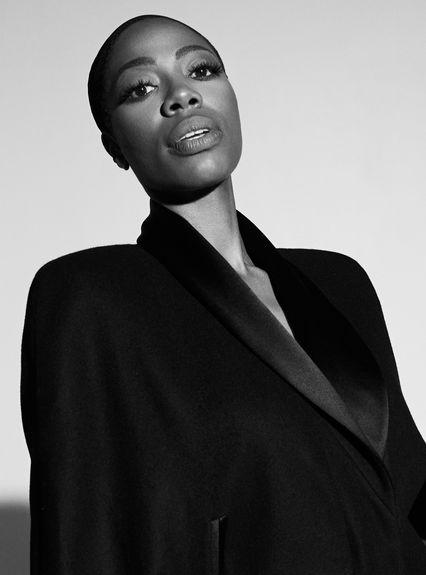 Orji was raised Catholic and remains a faithful Christian (her Twitter bio reads "Jesus and I roll tight"); she's also a virgin. During her first semester at George Washington University, she was 17 and had a boyfriend she fully intended to sleep with on December 2, her 18th birthday. ("I was counting down the days," she says. "I expected rose petals.") But then she went to a Bible study where she met Lindsay March, a beautiful 25-year-old minister who called God "Daddy" and was saving herself for marriage. Orji found that the idea of sacrificing something for Jesus spoke to her. March "was gorgeous and she was willingly saying no. I mean, it's easy when you ugly," Orji says. "She made the choice, and it stirred in me. I was like, I want to be so in tune with God. I always say I have been bamboozled by Jesus, because at the time, I was like, I better get married at 25. And now I'm 33. I'm in too deep."
She does have "a potential" at the moment. "We're just talking with a purpose," she says. "I think there is this narrative that if you are a black woman and you are strong and you are educated, it's like, Good luck getting a black man. I believe in the equal and opposite: If I exist, there is an equal and opposite version of me, and so however long I have to wait, and wherever he happens to be, we'll find it. Sometimes it's like, Jesus, where he at? But there are 8 billion people on earth and I haven't been to every Whole Foods yet."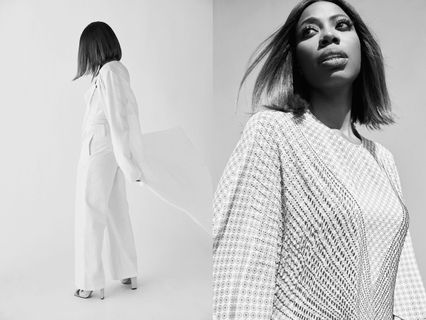 Before Insecure, the Nigerian-born actress thought she'd go into a more "immigrant-family-approved" career, such as becoming a doctor. (She got her master's in public health at George Washington.) She discovered comedy when she entered a campus beauty pageant as a favor to the organizer, and wound up performing a five-minute set about her family. She loved it — and, more important, she felt it was what God wanted her to do. So in 2009 she moved to New York to pursue stand-up. Eventually, she landed a job in the writers room of Love That Girl!, then launched First Gen, a web series riffing on her own life. First Gen got her an audition for Insecure.
When she was cast, nobody working on the show had any idea about her faith. And since Molly is such a sexual person, taking the role required a lot of conversations about how Orji could play the part without compromising her beliefs. "I talked to everyone about where the character was going," she says. "She's not just having arbitrary sex; she's trying to figure it out. She wants to be in a relationship. But sometimes she just does it, because there exists Molly the liberated woman. And so, for me, it was just finding the humanity within her." Orji talks through the choreography of her sex scenes with the executive producers. "But sometimes I watch and I'm like, Whoa! That looks a little too real!" She laughs — an enormous, inviting laugh that makes several people turn to see what the joke is.
Orji identifies first and foremost as a stand-up comedian. This summer, while on break from the show, she headlined a clean-comedy festival in Dallas. (Orji doesn't curse — she subs in "Shonda Rhimes!" for "shit!" — or talk about sex in her acts.) She also opened for Chris Rock on the Atlanta stops for his Total Blackout tour. She got a 22-inch weave for the occasion, got on stage "sittin' on dubs," and killed it with a 20-minute set. "When I was done, he's waiting there backstage with his arms folded and is like, 'You're good! You got the stuff,'" she reports, using her best Chris Rock voice — which is actually quite good.
"Now that people know me as Molly, people don't know I do stand-up," she says. "People are surprised I do comedy! And I'm like, 'Guys, that's all I have been doing. For, like, forever.'" She's also an unparalleled improviser on set, says Matsoukas, who tells me that it was Orji's comic spirit above all that got her the role.
The mariachi band starts up and Yvonne is called back to the set. It's getting toward the end of the day, which means there is a lot of "CUT!" and "ROLL BACK!" and weird hand gestures and flubbed lines. Today's scene is small but crucial: It sets up a turning point for Molly in her career (an even bigger plotline this season), and maybe also her frustrating love life.
Orji says this season is about evolution for Molly: There's therapy and about four or five different wigs, so you know she's going through some changes, Orji jokes. "She's going to be discovering what her issues are and how she can deal with it," she says. Molly is the character no one wants to admit they relate to, even if everyone can. Orji remembers a Twitter poll during the first season that (in keeping with Insecure's status as a black millennial Sex and the City) asked viewers, "Are you an Issa or a Molly?"
"Everyone was like, 'I'm like Molly … at work. But my friend is Molly, and I'm trying to stage an intervention and tell her to watch [Insecure],'" Orji says. "People are so conflicted that they might be like Molly. It says you might need some help." But Molly's struggle is what Orji appreciates about the character.
"Molly is not perfect and we allow her to be not perfect," she explains. "Listen, I am sure that there's a day that Oprah will wake up and feel like something is wrong in her life. I'm sure Michelle Obama wakes up and thinks, For the past eight years I've been one of the strongest black people in the world, but she has days when she might wake up, like, Gosh, what is happening right now? As strong as we are, we have our moments. My mama is an African woman who had four kids and was a nurse for 25 years, and she had her moments. I've seen her cry. I think that's the refreshing and scary thing about a character like Molly: It's like, Oh God, yes, I've been there."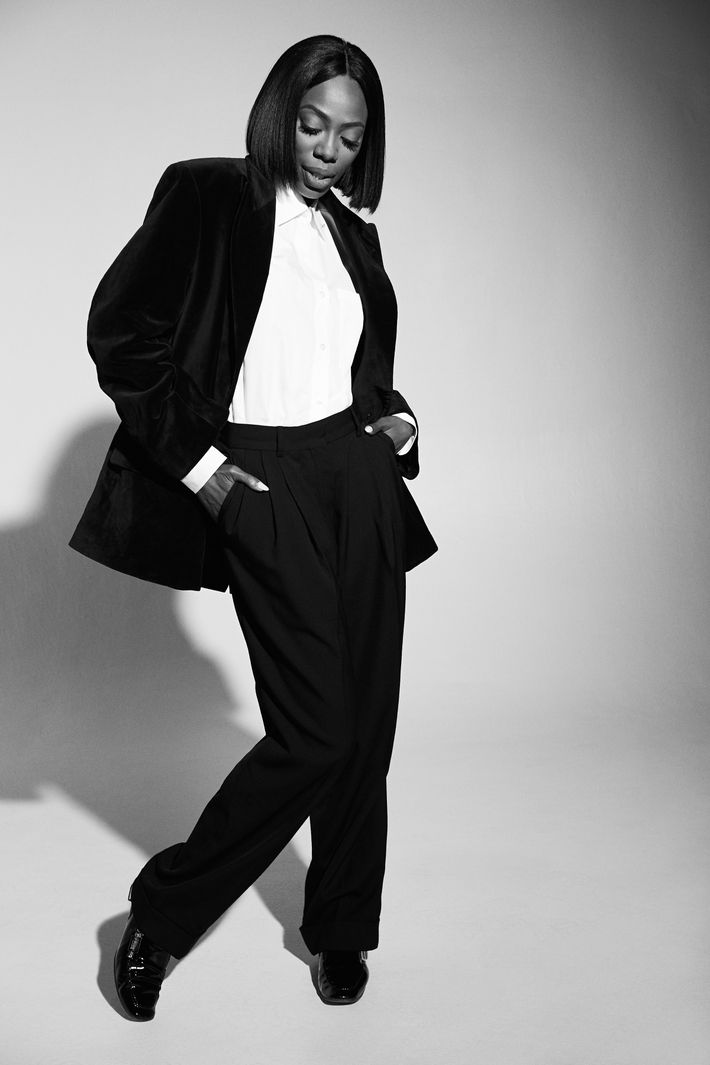 Lead image credits: 3.1 Phillip Lim cinched boucle coat with sherpa collar, $1,495 at 48 Great Jones Street; (212) 334-1160.
Photos by Andrew M. Casey, styled by Rebecca Ramsey. Hair by Sherrita Cole, makeup by Drini. Senior Photo Editor: Biel Parklee. Photography Assistant: Matt Summers. Styling Assistant: Sarah Kinsumba.