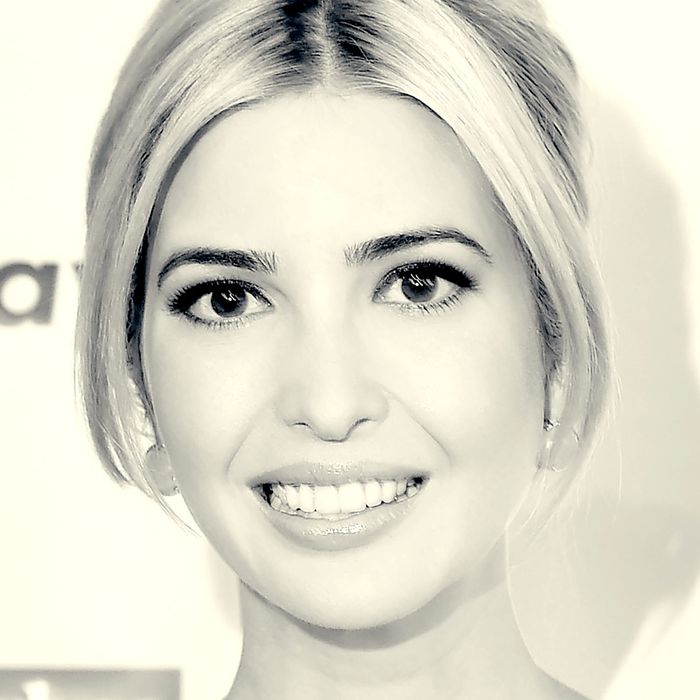 Ivanka Trump hasn't made any appearances or remarks this week.
Photo: Getty Images
On the first day of "workforce-development week," Ivanka Trump toured a Wisconsin technical college and hosted a roundtable with local business owners. That Wednesday, she hosted 15 CEOs at the White House to discuss workforce development. And on Thursday she co-hosted another White House event, this time with governors who'd retained jobs in their states. During "technology week," she attended a roundtable of tech CEOs from across the country. But this week — "made in America" week — she's kept a pretty low profile.
CNN notes that while her dad's been riding in fire trucks and trying on cowboy hats, Ivanka has been "absent from media coverage of the colorful festivities and the president's remarks. In fact, she has been relatively absent all week, save for glimpses on her social-media channels." Of those "glimpses," one had to do with expanding apprenticeship programs in the U.S., another showed her attending an all-girls robotics competition, and all the rest were about her daughter Arabella's 6th birthday — no "made in America" references in sight. Nor was she at her dad's "made in America" panel on Wednesday, which was strange, considering her vocal interest in business and entrepreneurship.
Ivanka's relative silence on this week's theme could have to do with the recent Washington Post report on how her eponymous brand operates. Among other things, it revealed that every item in Ivanka Trump's line is manufactured outside of the U.S. And, relative to other brands, the First Daughter's does little to protect its workers or to ensure the factories its licensing partner uses are up to standard.
The First Daughter technically stepped down from her leadership role at the brand in January, but she rolled her assets into a $50 million trust and still has an ownership stake in the company.
On Monday, Press Secretary Sean Spicer defended her brand's use of foreign labor during a press conference, saying, "There are certain things we may not have the capacity to do here in terms of having a plant or a factory that can do it." He added that some products "may not have the scalability or the demand here in this country, but like so many other things, if there's enough of a demand then hopefully somebody builds a factory and does it."
The brand's president, Abigail Klem, told the Post that the company was looking into making goods in the U.S., but "to do it at a large scale is currently not possible." In short, it looks like the First Daughter will be sticking to innocuous themes until Friday.