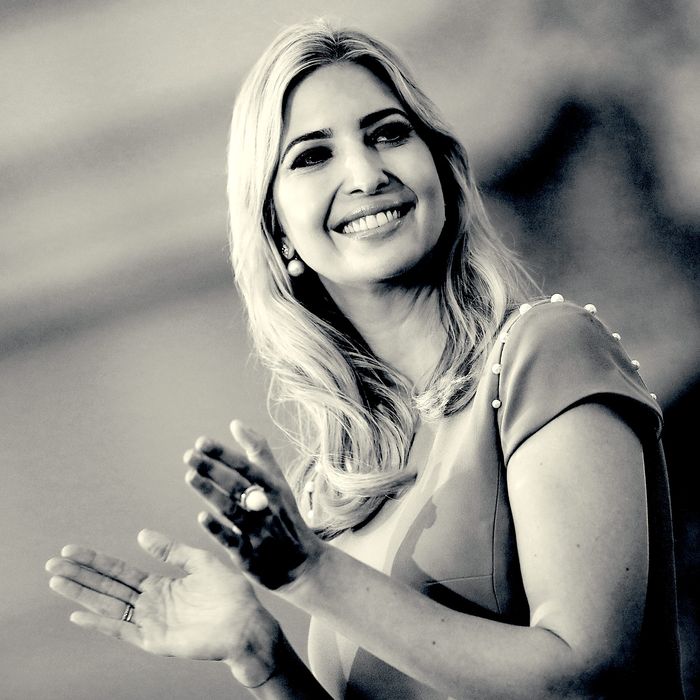 Ivanka Trump still owns her apparel brand.
Photo: 2017 Getty Images
Thanks to the arrest of three activists who were investigating factories where Ivanka Trump shoes are produced, the labor practices of the First Daughter's company have recently come under scrutiny. Multiple reports have revealed that workers who make Ivanka Trump–brand products are overworked, underpaid, and subject to mistreatment by their supervisors. And a deep dive by the Washington Post into Ivanka's company reveals that it does relatively little to protect them.
From big brands such as Adidas and Kenneth Cole to smaller, newer players like California-based Everlane, many U.S. clothing companies have in recent years made protecting factory workers abroad a priority — hiring independent auditors to monitor labor conditions, pressing factory owners to make improvements and providing consumers with details about the overseas facilities where their goods are produced.




But the Trump brand has taken a more hands-off approach. Although executives say they have a code of conduct that prohibits physical abuse and child labor, the company relies on its suppliers to abide by the policy.
For instance, it's become increasingly standard for companies to publish the names and locations of factories where their clothes and shoes are made, the Post notes. But Ivanka's had declined to do so. And while other companies personally inspect their manufacturing facilities or work with groups like the Fair Labor Association or the Sustainable Apparel Coalition to make sure their factories abroad treat workers fairly, Ivanka's doesn't.
Abigail Klem, Ivanka Trump's brand's president, said that it "had not yet matched the policies of other labels because it was newer and smaller … but is now focusing on what more it can do." "As a small, young brand, we did not have the chance to influence the debate around social compliance issues," she added. "But that has obviously changed during this past year."
According to Klem, the company will work to ensure that the people who make its goods — most of whom are women — can "live [the] mission" of the brand, which she said is to "inspire and empower women to create the lives they want to live and give them tools to do that." The women who earn so little manufacturing Ivanka Trump shoes in Indonesia that they can't afford to live with their families are sure to be thrilled.