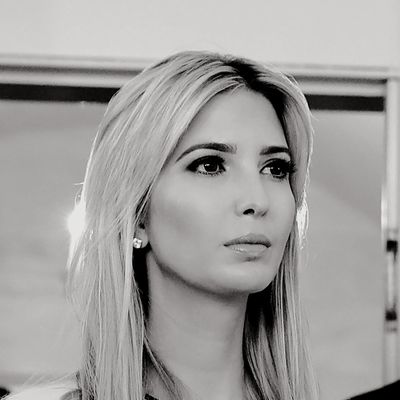 Ivanka Trump.
Photo: 2017 Getty Images
At the end of May, President Trump made a number of decisions that called his daughter's influence into question, and last week he made another choice that reportedly "blindsided" Ivanka: just weeks after she tweeted about her support for LGBTQ Americans, he announced a ban on transgender troops in the U.S. military. Although the ousting of Reince Priebus and the hiring of Anthony Scaramucci were internal victories for team Jared/Ivanka, the First Daughter is reportedly frustrated by the belief that she holds sway over her dad when it comes to policy.
According to Politico, Ivanka "desperately wants to lower expectations of what she can achieve" from inside the administration. She's found out the hard way that she can't do everything; she "has told allies that she wants to be held accountable solely on those issues she is actively working on — uphill battles that will count as major victories if she is successful — and the success of a World Bank fund she helped start, geared at helping female entrepreneurs gain access to capital." And she's tamping down her more liberal views:
Ivanka Trump has explained to critics that she doesn't want to ruin her credibility with Republicans, whose support she will need, by being perceived as what she sometimes refers to as a "super-lib" and expressing her personal disagreement with the administration's most conservative policies.
Early on, some expressed hope that Ivanka would use her unparalleled access to the president to sway him on certain issues. But now, six months into her dad's presidency, that hope is waning as she struggles to push through even the policies she's most focused on. More importantly, it was probably all wishful thinking in the first place — as a "former fashion-world friend" told Politico, "I know her well enough to know her relationship with her father, which is that she will never, ever, go against the grain."