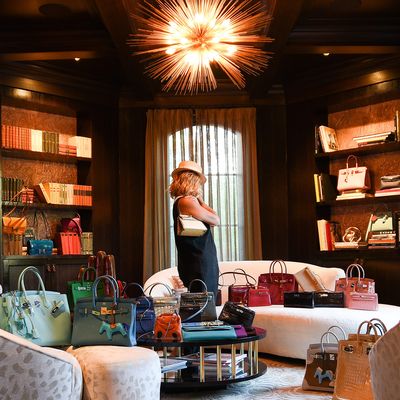 Jane in her studio.
Photo: Courtesy of Hermes
Jane Angert's studio in northern New Jersey contains anywhere between 150 and 250 rare Hermès bags. On any given day, she gets up around 4 or 5 a.m. to start answering emails from around the world, and often works through the night to satisfy her buyers located in Asia. "I have certain clients that I constantly have to contact and give them new bags because they're just collectors," she says by phone. "They're just obsessed. I have to give them new inventory on a daily basis."
Angert, who goes by the name JaneFinds professionally, began her career as a professional Hermès collector, seller, and consultant in the early days of eBay in 1996. Her husband, then a VP for Sotheby's, inspired her to start selling online. But she'd been obsessed with the brand since the early '80s, when she worked part-time in retail for a boss who would let her borrow her small collection of Hermès bags. "They can't do anything wrong. They use the best materials. They use the best craftsmen in the world," she says.
Later on, she worked at a trend-forecasting company, reviewing fashion shows, before buying her first Hermès Birkin bag for $3,000 secondhand, at the age of 28. Today, as a collector and a consultant helping other Hermès fans build their collections, she owns more than 80 Hermès bags herself.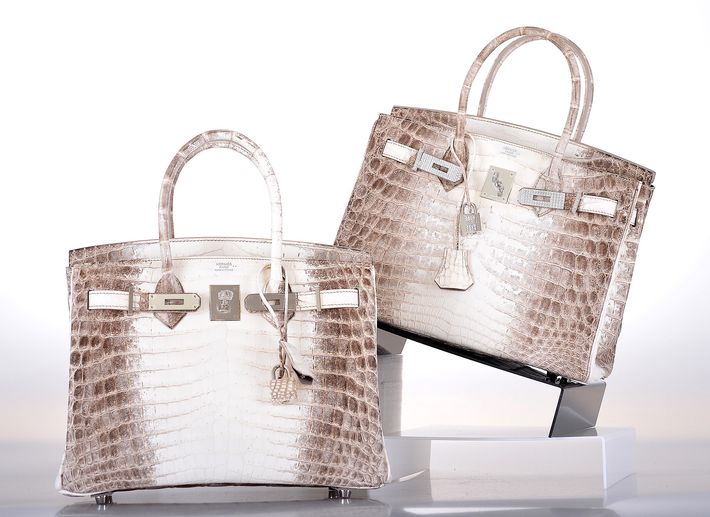 It's that passion that led to Angert recently brokering the world's most expensive single handbag ever sold: a matte, white, Niloticus crocodile, diamond, 30-centimeter Himalaya Birkin that went for $377,000 in Hong Kong. She won't say whom she sold it to, but on Instagram longtime luxury-bag blogger Tina Craig, another Angert client, referred to the buyer as "a member of the Saudi royal family who prefers to stay anonymous." (For the uninitiated, Craig is posing with a standard Himalaya in the photo, not the crocodile-diamond Birkin.)
If it sounds like Angert has had some glamorous encounters and crazy stories, she does. "I don't travel a lot, but if I have to, I go," she says, bluntly. "There was an instance when a Russian oligarch wanted to buy a present for his girlfriend and she wanted a Himalaya Kelly. He needed to have it for her birthday in London within 24 hours. I said, 'You know, I can get the Kelly, but I don't know if we can deliver it.' He said, 'No problem, I will make sure to send a plane.' So I delivered the bag. I was the one to say happy birthday to her."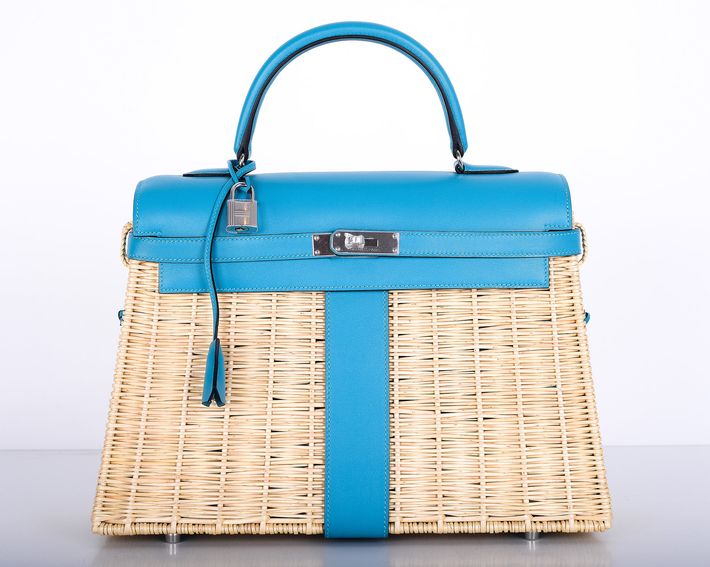 She also fondly refers to a longtime client and friend whose then-fiancé was buying from her. She knew the fiancé was a famous boxer, but she didn't realize it was Floyd Mayweather until he personally called one day to make an in-person appointment himself. "We made an appointment and he came over with his entire entourage," she says. "He bought quite a few bags for his assistants and everyone. We're still friends today."
Currently, Angert has over 1,000 clients and sources the majority of the bags she sells from them. Why do collectors sell their bags? "It's the pursuit. The lack of immediate gratification of exactly what you want," says Ross, her husband and the company's CFO. "Same reason watch collectors and art collectors are constantly buying and selling."
"My book is pretty big," Angert says, referring to her business. In addition to selling to private clients, she sells on eBay, auction houses, 1stDibs, Portero, Fancy, JaneFinds.com, Instagram, and Facebook. She also launched her own product called the Baginizer, which is designed to protect the inside structure of Hermès bags so that they retain their value throughout their use.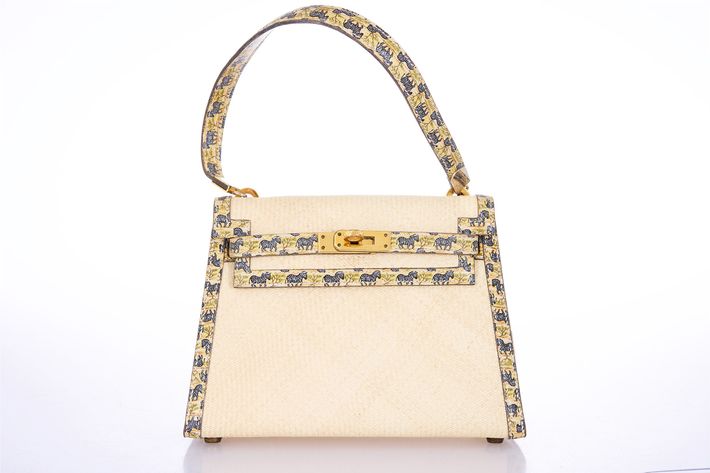 But while the white Himalaya bag may have been the most expensive bag she ever sold, that doesn't necessarily mean it's the rarest Hermès bag she's ever come across. Some of her finds are the stuff of rumors and legends. Take, for example, the rainbow Kelly bag she sold to a client. Or the fringe 35-centimeter Birkin picnic-basket-style Kelly bags in both the white and blue colorways, or the 20-centimeter zebra Kelly with mini zebras lining the interior and trim of the bag.
"The Hermès elephant-skin Kelly bag was purchased about 15 years ago at the Hôtel Drouot auction in Paris," she adds, recalling one of her rarest finds ever. "Our client was a close friend of Jérôme Guerrand Hermès and he advised him of its rarity, so he purchased it for his collections. This was the only Kelly in elephant hide available on the market. This skin was from a safari in Africa during the' 80s."
Nowadays, luxury bags are ubiquitous online. "I feel that the market has split into two," she says. "The buyers are very savvy now with all the options on the internet. Even Century 21 is trying to get into this luxury market. It's clear to me that the two categories are the basic, standard Birkin or Kelly — the bread and butter that we sell all day long — and then the specialty bags. It can be anything from a leopard to a zebra print that nobody has seen before. We stand out in this category."
"I have access to any bag at any time," she says firmly. "It might take 24 hours or so, but I can get any bag that is needed."