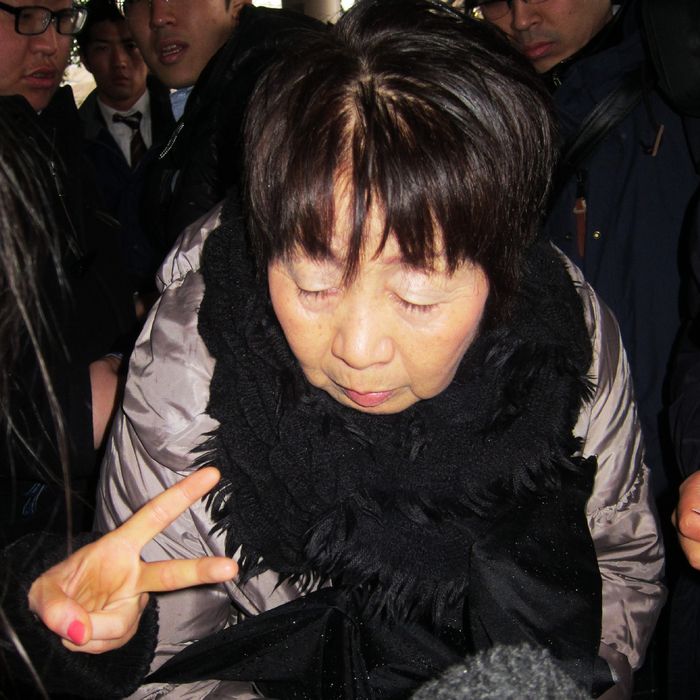 Chisako Kakehi.
Photo: JIJI PRESS/AFP/Getty Images
Chisako Kakehi, now 70, was nicknamed the "Black Widow" of Japan in 2014 when her fourth husband became the latest in a string of her paramours to be found dead. Now, the New York Times reports Kakehi confessed in open court to having poisoned her husband, saying she'd merely "laugh" if she were sentenced to death for the crime.
The Times reports that her fourth husband Isao Kakehi was 75 when he became her sixth partner to have been killed between 2007 and 2013, each of whom died soon after marrying or dating her. All of her alleged victims were between 70 and 80 years old, and three were married to Kakehi at the time of their deaths, though she hasn't been charged in those deaths. Yet, she reportedly inherited as much as 1 billion yen, or $8.8 million, from the men upon their deaths.
On Monday, Kakehi admitted on the witness stand to killing her fourth husband after having previously vowed to stay silent during the proceeding. Once a prosecutor asked whether she had poisoned the man, Kakehi said there was "no mistake" that she was responsible for his death. "I felt like Isao was discriminating against me in comparison to the last woman he was in a relationship with, and I got angry," she said, adding that she wasn't given any money after marrying him.
"I killed my husband. I have no intention of hiding the guilt," she went on to say, per the Times, which cited a report from the Japan Times. "I will laugh it off and die if I am sentenced to death tomorrow."
Kakehi told the court that she got cyanide — which the Times notes was also believed to have poisoned her other partners — from a business associate and used it on her late husband. Meanwhile, Kakehi's attorneys have argued that she suffers from dementia and is thereby unable to accurately remember details from the men's deaths.