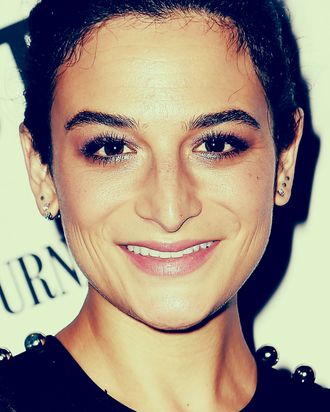 Jenny Slate.
Photo: 2017 Getty Images
Jenny Slate is trying to put herself back out there after her split with Chris Evans, but unfortunately, the comedian is learning the hard way that dating, well, sucks. Case in point: She was recently set up on a blind date — and the guy showed up dressed like a knight, complete with chain mail and a crest.
The actress (whose closet we'd like to raid) discussed the awkward date last week on the podcast Talk Easy with Sam Fragoso. As Nylon reports, Slate opened up about feeling hesitant to start dating again but agreed to go on a blind date at the urging of friends.
Her exchange with the man started out innocuous enough, until he joked about how they should do "something normal like a Renaissance fair" when they were making plans. "It was a joke," Slate explained. "But for me, I am a comedian, so I was like, 'That's not a funny joke.'" But he apparently decided to keep the bit going throughout their date.
"He comes around the corner inside the restaurant … this dude, and I'm not kidding, is dressed in full chain mail," Slate said. "He's got a full authentic knight's costume on, including a floor-length tabard, which I called a tunic and then he corrected me and was like, 'It's actually a tabard.'"
She explained that Slate's date told her that he rented the costume from the Russell Crowe Robin Hood movie, and that the outfit was made of a "thick, smoky blue suede," with a "crest, like a coin purse." Slate continued, "I have a whole date with him. His chain mail is like getting caught on stuff. I am feeling feelings which I never even felt as a teenager, which are like, you're embarrassing me. I'm mortified, and also just mad. He's trying my pasta with the chain mail clinking across and stuff, it's insane."
Eventually the date ended, and although Slate helped him "disrobe" in the parking lot, she later returned to the restaurant to order herself a "whiskey vodka." Luckily she can probably just sue the guy for putting her through a bad date.