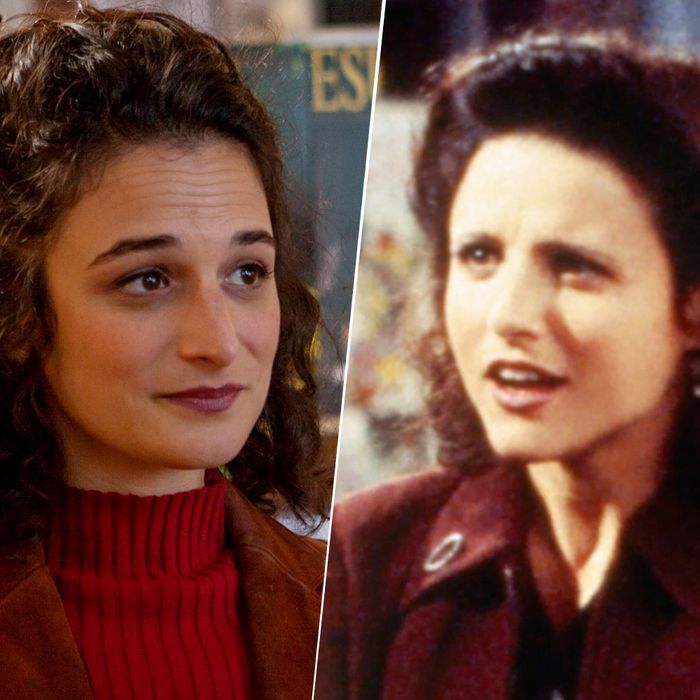 Jenny Slate channels Julia Louis-Dreyfus.
Photo: Linda Kallerus/Courtesy of Amazon Studios; Getty
There are plenty of sweet moments in Gillian Robespierre's new 1995-set movie Landline, opening today, which stars Jenny Slate as a neurotic Upper West Sider and Abby Quinn as her weed-smoking, flannel-wearing, Rebellious Teen little sister. There's the scene where they get arrested wearing garbage bags as Halloween costumes ("I'm a California raisin!"); where they belligerently drink whiskey–Mountain Dew out of Nalgene bottles at a local indoor pool; and where they spy on their dad (John Turturro) at work and judge him for his proclivity for street-bought hot dogs.
But the best moment in the film comes when Dana (played by Slate) approaches a payphone to check her messages wearing mom jeans, a turtleneck, and a suede jacket. Her hair is curly and pinned half-up with a hair clip. She moans at reminders about her upcoming wedding, delays responsibility by playing hooky from work, and heads to a record store to dance to "world music" instead. She is, in short, Seinfeld's Elaine Benes incarnate.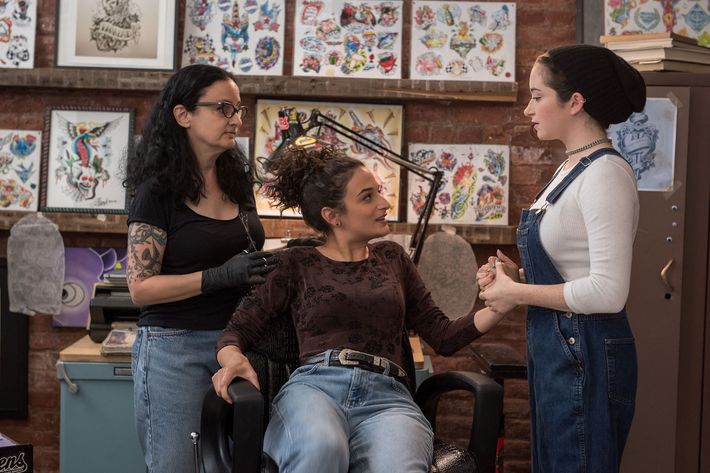 Slate acknowledged the parallel in an interview with Indiewire, discussing the wave of '90s nostalgia in current clothing trends. "If you go into a Forever 21 or a mainstream store, you see the '90s are back in a stylized way. When we really started to dress ourselves for the movie, I realized 'hold on, there's a ton of stuff from the '90s we've totally left behind.' Sexy women were wearing these crazy, unflattering jeans," she said. "To my delight, I looked a lot like Elaine Benes in some of the outfits."
Though her character Dana is engaged (to Jay Duplass's Ben, the kind of Nice Jewish Boy that his Transparent character Josh tries and fails to be), she spends the movie wallowing in the insecurities of young womanhood, wondering whether the choices she's made are the ones she wants to live with for the rest of her life. She is neurotic, irresponsible, and spontaneous. She hooks up with a former college flame at a matinee showing of a Nazi documentary in a scene that puts Jerry and Rachel Goldstein, with their mid–Schindler's List make-out session, to shame.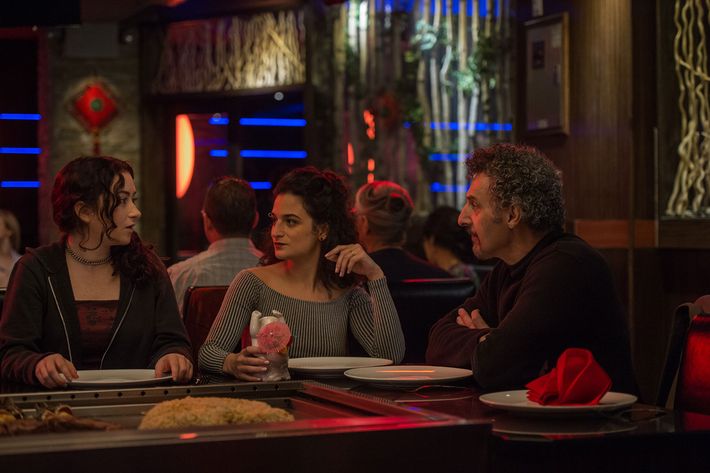 Like Elaine, Dana is complicated and challenging and at times downright awful. As Julia Louis-Dreyfus said herself in this magazine's 1998 cover story: "If you hear a man say he's looking for an Elaine-type woman, run in the opposite direction of that man. I am not kidding. Run! That man is a moron. I don't think she's made it cool to be single and neurotic. People don't look up to these characters. Of course Seinfeld is funny. But beyond that, single viewers can say 'That is bad! These people are not where I want to be! I will laugh at them!' It's kind of like watching Jerry Springer."
But women — especially 20-something New Yorkers — have long found a feminist icon in Elaine, not merely one of the boys but a tangled knot of chutzpah in her own right, a consistent scene-stealer whose ego often supersedes those of her emotionally stunted pals. She is bold, brassy, and wears a pair of high-waisted mom jeans like few others can (save Rachel and Monica). For Seinfeld fans, watching Elaine is like catching up with an old friend, the kind who is always getting into some convoluted debacle, always giving away false phone numbers to men, always there to dish you her own slightly misguided yet surprisingly astute version of advice.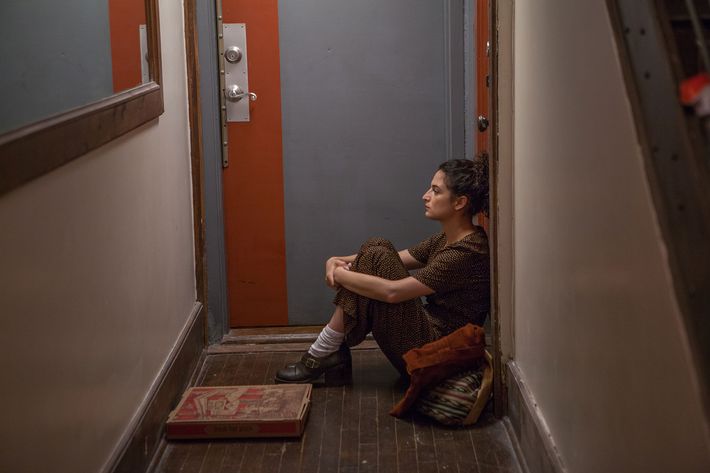 Slate's performance in Landline nods to Benes in more ways than wardrobe. With her nasal voice and distinct cackle, Slate is unyielding to the conventions of female likability. She takes up space — a lot of it — and lights up the film with her combination of spontaneous whimsy and genuine heart. Dana, like Slate's character in Robespierre's debut film Obvious Child, teeters on the tropes of Manic Pixie Dream Girl but never acquiesces due to the director's strong grasp on female livelihood and Slate's delicate walk along the tightrope of likability.
But as much as Landline's authenticity invokes nostalgia for old Seinfeld episodes and long, twirl-the-cord-around-your-finger phone calls, Dana's infected eyebrow piercing — a product of her mid-film crisis — reminds us that some trends are better left behind.