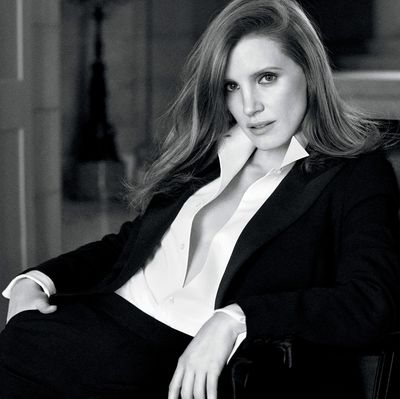 Jessica Chastain.
Photo: Steven Meisel
A woman is the new face of Woman, Ralph Lauren's first new scent in almost a decade, with Academy Award-winner Jessica Chastain landing her first big beauty job as the spokesperson for the perfume. Although the gender of the scent is fixed, Chastain — who has been vocal about the "disturbing" depiction of women in film — said that she believes the depiction of masculinity and femininity is changing.
"It used to be that feminine meant only to be soft and kind, but now we understand that being feminine also can mean being successful and being ambitious and being intelligent in addition to kind and compassionate. Femininity is whatever a person defines for themselves. It's moved away from this old-fashioned notion of what a woman is," Chastain told WWD. Talking about the ideal "woman" for the scent and explaining why Chastain was an obvious choice, Ralph Lauren said, "She's not afraid to be vulnerable, but has an inner strength that is serene and quiet, yet powerful in its integrity." The campaign was shot by Steven Meisel and the scent will be out August. Watch a teaser trailer for the fragrance below.