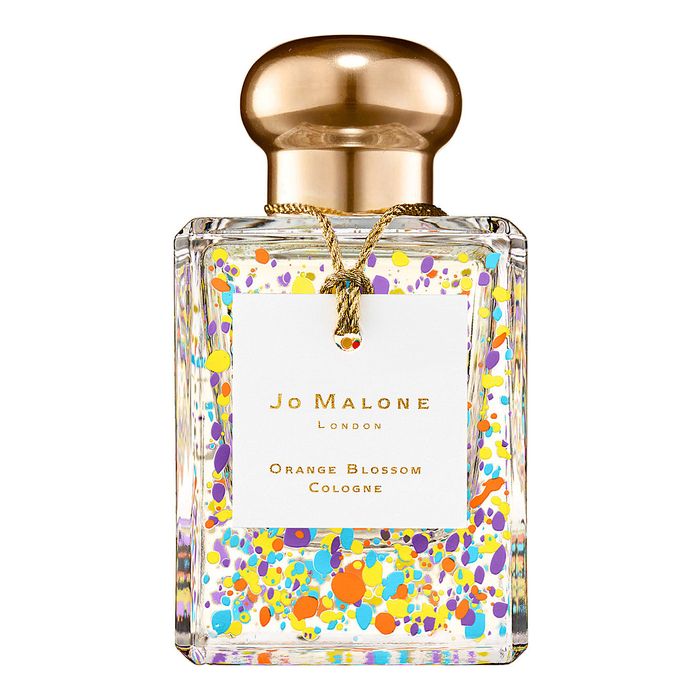 You don't have to smell Sex Panther by Odeon to know that the fragrance industry is, as Frédéric Malle once said, "extremely focused on sex." Roughly 95 percent of the perfume imagery that crosses my desk features a woman or a couple in some sort of erotic situation, and far too many perfume ads wrongly perpetuate the idea that having sex on the sand is a good idea. But rising above all the sexy clutter on my desk is a perfume that's downright chaste.
Jo Malone Orange Blossom is not new. It's actually somewhat old. Although it has a new limited-edition package design by actress Poppy Delevingne, it's been around for about 14 years, making it practically a senior citizen in the world of perfume, where hundreds of new scents are released every year. Yet it remains one of the brand's perennial best-sellers, and for good reason.
The scent smells like the peel of a freshly picked clementine, with hints of green and sweetness. I'm told it resembles the air in Sicily in April, when there are so many blooming orange blossoms that a New York Times travel writer once described it as "almost excessive." There's even a slight herby tea note to the fragrance, like a well-mixed welcome drink at a fancy hotel. Most importantly, it smells like nature, newness, fresh growth, and delicious, warm sunshine.
On fragrance message board Fragrantica.com, Orange Blossom is one of the most well-reviewed scents. Perfume lovers praise its freshness, invigoration, and energy. "Resilience and optimism are two words that come to mind when I smell this fragrance," user cocoethermes aptly explains.
At a time when it's easily to be skeptical, it's nice to inhale a fragrance that makes you believe in something — even if it's just oranges being warmed by the Italian sun. And if you absolutely insist on sexiness in your scents, you can layer the fragrance with others. Try something with tuberose (an ingredient that perfumer Roja Dove calls the "harlot of perfumery" for its association with sex), like the brand's Tuberose Angelica.