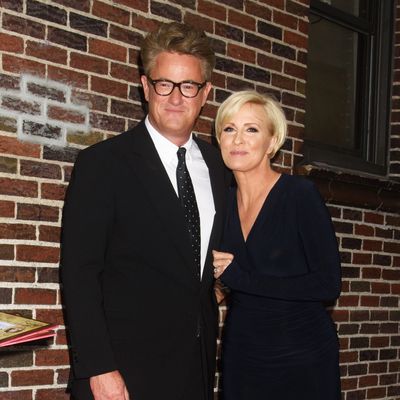 Joe Scarborough and Mika Brzezinski.
Photo: SBN/Star Max/GC Images
Morning Joe co-hosts Joe Scarborough and Mika Brzezinski are planning on getting married in Nantucket in the spring, Politico reports.
Scarborough, whose new EP Mystified is all about drugs, decadence, and bad girls, told the crowd at the Harvard Institute of Politics in D.C. on Wednesday night that the wedding will be "in Nantucket in the spring. But we don't know because we gotta make sure that our kids are okay with it," according to Politico. He then reportedly joked that they'd definitely get married in Nantucket if former congressman Bill Delahunt, who was in the audience, promised to attend.
Brzezinski and Scarborough got engaged in the South of France in May, almost a year after "Page Six" revealed that they were involved in a "secret romance." And while it seems like the wedding planning is still in the early stages, at least we know which song Scarborough will likely sing at the reception.