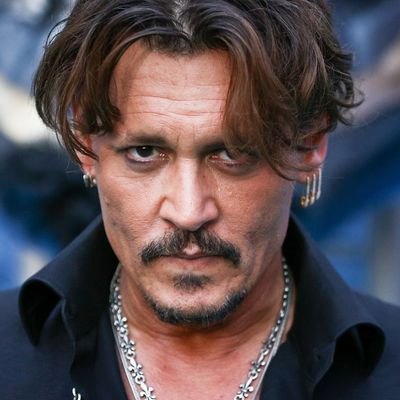 Johnny Depp.
Photo: Rich Fury/Getty Images
Just when you thought Johnny Depp's prolonged legal battle with his former management company couldn't get any more bizarre, the Kardashians got involved. In an amended cross-complaint filed on Thursday, the Management Group (TMG) detailed some of the actor's exorbitant credit-card charges, including a $7,000 couch from the set of Keeping Up With the Kardashians, for his daughter, Lily-Rose.
According to The Hollywood Reporter, which obtained and published the legal documents, Depp's other alleged expenses include: "more than $500,000 in rental fees for storage warehouses that hold his Hollywood collectibles, $17,000 in handbags and luggage at Prada."
These are not the most outrageous of Depp's supposed charges. TMG has previously claimed Depp's extravagant spending included $30,000 in monthly wine costs, $75 million on 14 properties, and $3 million for a special cannon he used to shoot Hunter S. Thompson's ashes over Aspen, Colorado.
While $7,000 may sound like a lot to pay for a couch Kris Jenner may have sat on, it's actually a great deal as far as Kardashian furniture goes, considering Kendall Jenner once dropped $52,000 on a sofa.