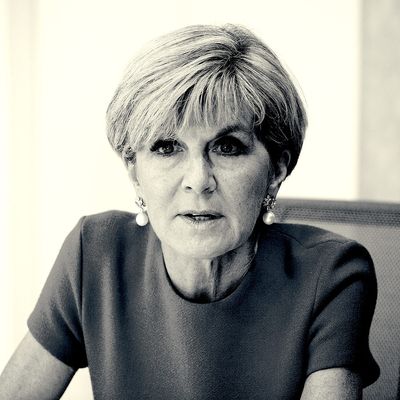 Australian foreign minister Julie Bishop.
Photo: © 2017 Bloomberg Finance LP/Getty Images
Last week, President Donald Trump was overheard telling French First Lady Brigitte Macron, "You're in such good shape." And on Sunday, Australia's foreign minister posed an interesting question: Could Macron say the same of renowned exercise-denier Trump?
As the New York Times reports, Foreign Minister Julie Bishop was asked about Trump's comment during an interview on the television program Insiders and whether she'd be "flattered or offended" if Trump ever made such a comment about her. "I'd be taken aback, I think," Bishop said.
"It's a rather interesting comment to make. I wonder if she could say the same of him."
Bishop was then asked if she found the comment to be "condescending," to which she replied, "Oh, I'm not going to run a commentary on President Trump's conversations with the French president about the French president's wife. Likewise, I don't run a commentary on his Twitter account."
However, the Times notes that Bishop also serves as deputy leader of Australia's right-leaning Liberal party, and has made comments in support of Trump in the past. But still, we thank Bishop for allowing us to wonder what Macron would say of Trump's physical shape.