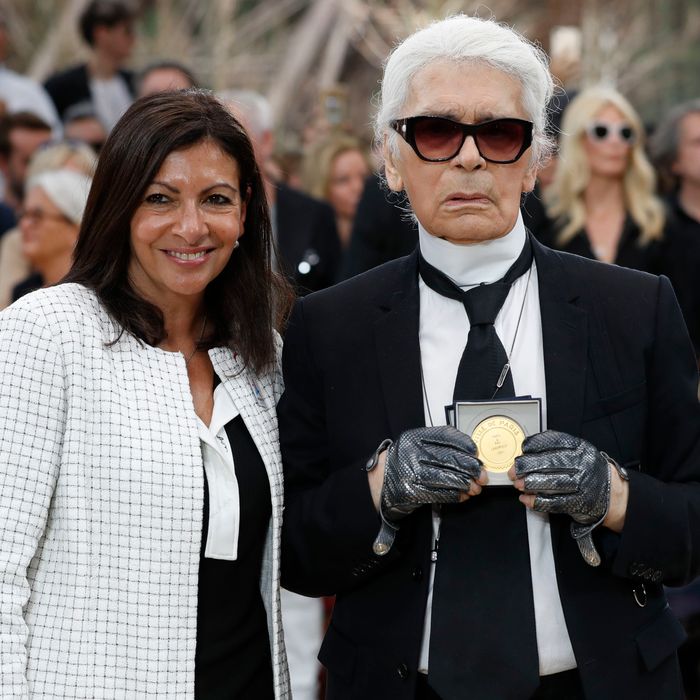 Anne Hidalgo and Karl Lagerfeld.
Photo: PATRICK KOVARIK/AFP/Getty Images
In case you missed the scale model of the Eiffel Tower made for the Chanel couture show, Karl Lagerfeld loves Paris. And Paris loves him back. Underneath the 38-meter mini–Eiffel Tower, Lagerfeld paraded a classically French collection — complete with hats, suiting, and voluminous dresses. Following the show, Anne Hidalgo, mayor of Paris, presented the Chanel designer with the Grand Vermeil medal (in front of Katy Perry and Tilda Swinton, no less).
Lagerfeld described the collection as, "a vision of a revived Parisian woman. It is all about cut, shapes, silhouettes. Here the line is very delineated and graphic, it's very modern."
Canotier hats, a nod to Coco Chanel, matched the double-breasted tweed coats and skirt suits that dominated the opening. The middle of the show featured modern details like sequins, feathers, and exaggerated sleeves. Each model wore a smoky eye and oversized pearl earrings.
The show closed with a magnificent bridal look with adorned sleeves and a bow. Suzy Menkes wrote that the look caused a few audience members to "exchange smartphones for handkerchieves."