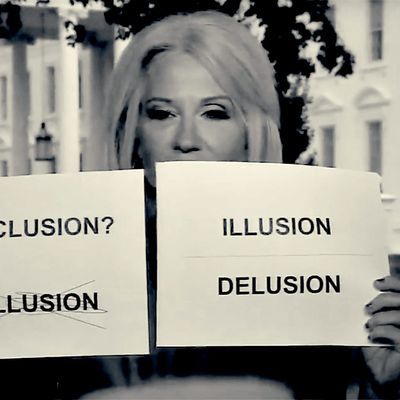 Kellyanne Conway on Hannity.
Earlier this week, the Trump-Russia controversy took yet another twist when it came to light that Donald Trump Jr. met with a Russian lawyer because he was promised damaging information about Hillary Clinton. And following closely behind is counselor to the president Kellyanne Conway, who's doing her usual cleanup, telling the American people that the mainstream media should absolutely not be trusted when it comes to any negative press about the Trumps. But this time, she brought flash cards!
During a Wednesday-night appearance on Hannity — after saying that the Trump Jr. meeting was not a big deal and drawing attention to the DNC's reported ties to Ukraine — she whipped out two 8.5-by-11-inch sheets of paper, one printed with "Conclusion? Collusion" and the other with "Illusion Delusion." Yes, reader. They all rhyme.
"This is to help all the people at home. What's the conclusion? Collusion?" she said, while crossing the last word out. "No. We don't have that yet. I see illusion and delusion."
Ugh, worst episode of Schoolhouse Rock! ever.