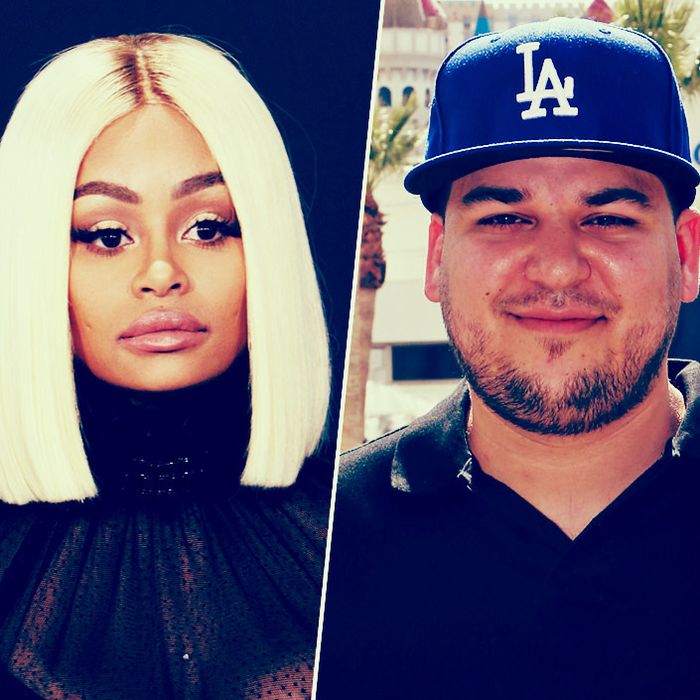 Blac Chyna, Rob Kardashian, Kim Kardashian.
Photo: Getty Images
Last week, in a characteristically vengeful outburst, Rob Kardashian posted several nude photos of his ex-fiancée Blac Chyna on Instagram without her consent. Chyna has since hired famed attorney Lisa Bloom to seek a restraining order against Kardashian, and she has accused him of physically abusing her during their relationship. In an appearance on Good Morning America last week, she said she was "devastated" by Kardashian's behavior. So what do the Kardashian sisters think about all this? Privately, they are said to be "deeply disappointed and frustrated with Rob," but publicly, they are not rushing to help Chyna. In fact, Kim Kardashian has now suggested that Chyna violated the terms of her nondisclosure agreement.
ABC News reported yesterday that when they approached Kim for comment about Rob's outburst, she simply sent the NDA Chyna signed to appear on Keeping Up With the Kardashians and Rob & Chyna. Kim did not comment further, which suggests she believes Chyna violated the terms of the agreement. The agreement states, in part, that Chyna "shall not at any time disclose, publicly or privately, any information which is in any way, fashion or manner related to, associated with or connected to the Kardashian family/Jenner family/Disick family/West family and/or their personal relationships, their business activities, plans, operations, finances or employees."
A rep for Chyna told People yesterday that none of the Kardashians have personally reached out to Chyna about the situation. Meanwhile, Rob has reportedly apologized to his family for his behavior.