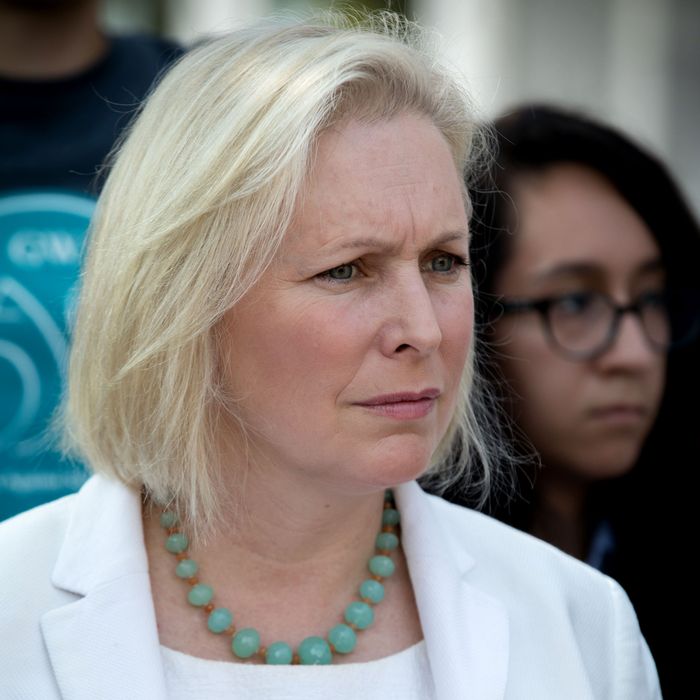 Senator Kirsten Gillibrand penned a letter to Defense Secretary Mattis, which was signed by nearly 50 senators.
Photo: 2017 The Washington Post/Getty Images
While all eyes were on Senator John McCain during last night's health-care vote, Senator Kirsten Gillibrand was seen quietly making her way around the Senate chamber asking for signatures on a letter to Defense Secretary Jim Mattis. The letter, which was published Friday with 45 signatures, urges Mattis not to impose a ban on transgender troops in the military — at least until he's completed a thorough internal review.
"We strongly oppose this policy change, and urge you to advise the President against it," the letter reads. "This announcement contradicts existing Defense Department policies, undermines our military readiness, and puts our transgender service members as well as their commanders in an impossible situation."
Lawmakers ask Mattis not to "separate any service member … until you have completed the assessment that you announced on June 30, have reported back to Congress about any challenges that you foresee in the accession and retention of transgender troops, and determined the Department is unable to mitigate these challenges."
The letter comes in the wake of President Trump's surprise announcement on Twitter that transgender troops would not be allowed to serve in the U.S. military "in any capacity." Several Republican lawmakers have criticized the ban (which, by the way, is unconstitutional), but only one signed Gillibrand's letter: moderate Susan Collins. The rest of the signatures are from Democrats.
On Thursday, the chairman of the Joint Chiefs of Staff said that the military's policy on admitting trans soldiers hasn't changed — "There will be no modifications to the current policy until the President's direction has been received by the Secretary of Defense and the Secretary has issued implementation guidance," he wrote in a memo. With this letter, and with legislation she plans to introduce, Gillibrand is reportedly hoping to stop the ban before it starts.