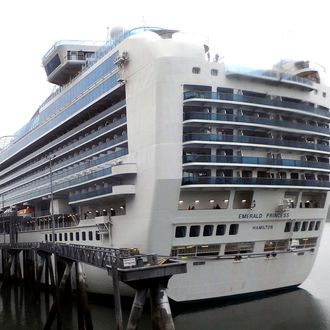 The
Emerald Princess
ship docked in Alaska.
Photo: Associated Press
A Utah man was arrested for allegedly murdering his 39-year-old wife aboard a cruise ship on the coast of Alaska on Tuesday night, after telling witnesses who discovered him next to her bloody body, "She would not stop laughing at me."
As CBS News reports, Kenneth Manzanares was charged with the murder of his 39-year-old wife Kristy Manzanares aboard the Emerald Princess ship in U.S. waters near Alaska, according to a federal criminal complaint released Thursday. The couple was reportedly traveling with a big group, including their children, and Princess Cruises said the attack was believed to have occurred during a domestic dispute. A recent report from the Centers for Disease Control and Prevention found that more than half of murders of American women occur as a result of intimate partner violence.
One witness told CBS News that passengers became aware of the murder when a young girl came running out of the cabin, saying her parents had been in a fight. But because there was a "murder mystery" theme dinner taking place at the time, some passengers reportedly thought the call for help was a hoax at first before realizing the "severity" of the situation.
Before the security officers arrived, a witness reportedly asked Kenneth Manzanares what had happened, to which he replied that his wife wouldn't stop laughing at him. Security arrived shortly thereafter, handcuffed him, and detained him in an adjoining room.
The murder occurred while 3,400 passengers and 1,100 crew members were onboard the ship, which had departed Seattle on Sunday for a seven-day cruise to Alaska and back. The attack happened hours after the ship left Ketchikan, Alaska, and after the murder, the ship was diverted to Juneau on Wednesday.