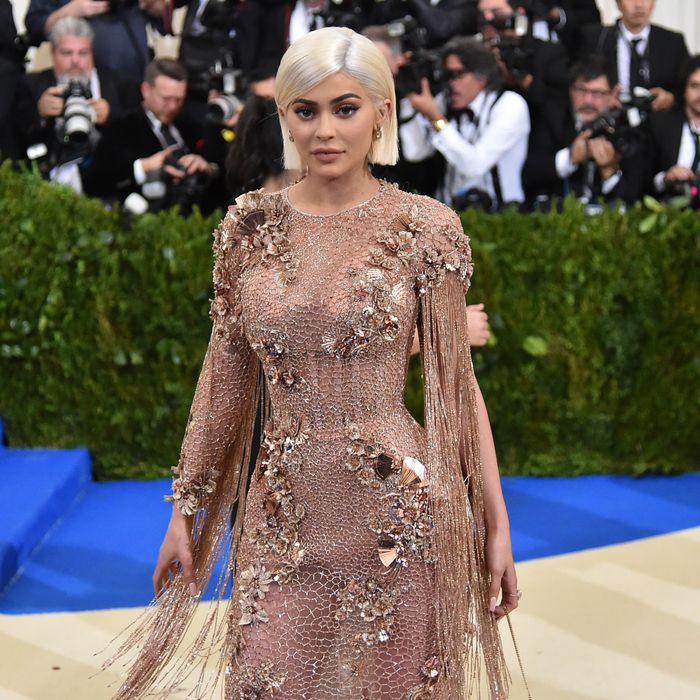 Kylie Jenner.
Photo: Mike Coppola/Getty Images for People.com
Kylie Jenner is facing another copyright claim, this time for her new E! show. This comes less than a month after Jenner and her sister Kendall were hit with lawsuits for using photos of Tupac and Notorious B.I.G. without consent of the photographers or B.I.G.'s estate.
TMZ reported on Tuesday that British artist Sarah Pope is suing Jenner and NBC Universal for ripping off one of her art pieces for a promo graphic used for Jenner's upcoming solo show, Life of Kylie.
Pope's piece, titled "Temptation Neon," also features a lip bite outlined by neon. Sources have told TMZ that the design was created by a third party, and Jenner "had nothing to do with the process."
It's not the first time Jenner's lips have gotten her in trouble. Makeup artist Vlada Haggerty (who has accused Jenner of copying her designs many times) has filed a lawsuit against Jenner for copying one of her photos for campaign images for Kylie Cosmetics. Haggerty has also accused Jenner of copying the "dripping lip" style that's become the logo of Kylie Cosmetics.