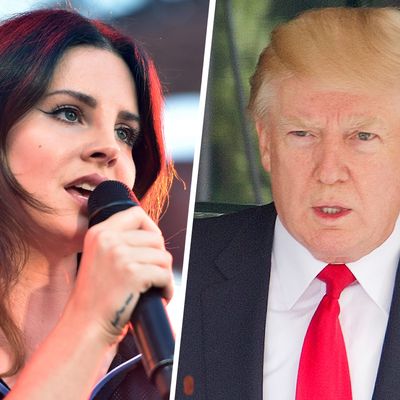 Lana Del Rey, Donald Trump.
Photo: Getty Images
In February, Lana Del Rey tweeted an open invitation for us all to join her coven in casting spells against President Donald Trump during several consecutive waning crescent moons. And in a new interview with NME, the witchy woman confirmed that she did, in fact, try to place a hex on the truck-loving president.
"Yeah, I did it. Why not? Look, I do a lot of shit," Del Rey said. "I'm in line with Yoko [Ono] and John [Lennon] and the belief that there's a power to the vibration of a thought. Your thoughts are very powerful things and they become words, and words become actions, and actions lead to physical charges."
The moon child went on to say, "I really do believe that words are one of the last forms of magic and I'm a bit of a mystic at heart."
And you know what? Her hex appears to be working.