I came to know Laura Harrier the way anyone gets to know a person these days: Instagram. When I found her on the app's explore page last month, it was not immediately clear that she would soon be playing Spider-Man's love interest in a new Marvel reboot. All I knew was that she seemed pretty cool. Relatable, even. She burns sage to clear out weird vibes from certain rooms. She wears "The Future is Female" merch. She recently visited Dia:Beacon. Honestly, her posts looked a lot like mine, with the exception that in between shots of rust-tinged Richard Serras and Otherwild shirts, there was Harrier, leggy and underwear-clad, on a giant Aerie billboard in Times Square.
A little over a year ago, at the ripe old age of 26, Harrier landed a career-igniting role as Spider-Man's Liz Allan. Google says she's five-nine, but when we meet, she doesn't tower over me. Her face is scarily symmetrical, and I can tell you that at least one of the Kardashians would pay good money to mimic her lips.
At age 18 Harrier left the suburbs of Chicago for New York University's Gallatin School of Individualized Study, but as soon as she arrived in the city she couldn't avoid booking profitable modeling gigs. She deferred enrollment, and her sweet midwestern parents "were actually cool" about the whole thing, she told me.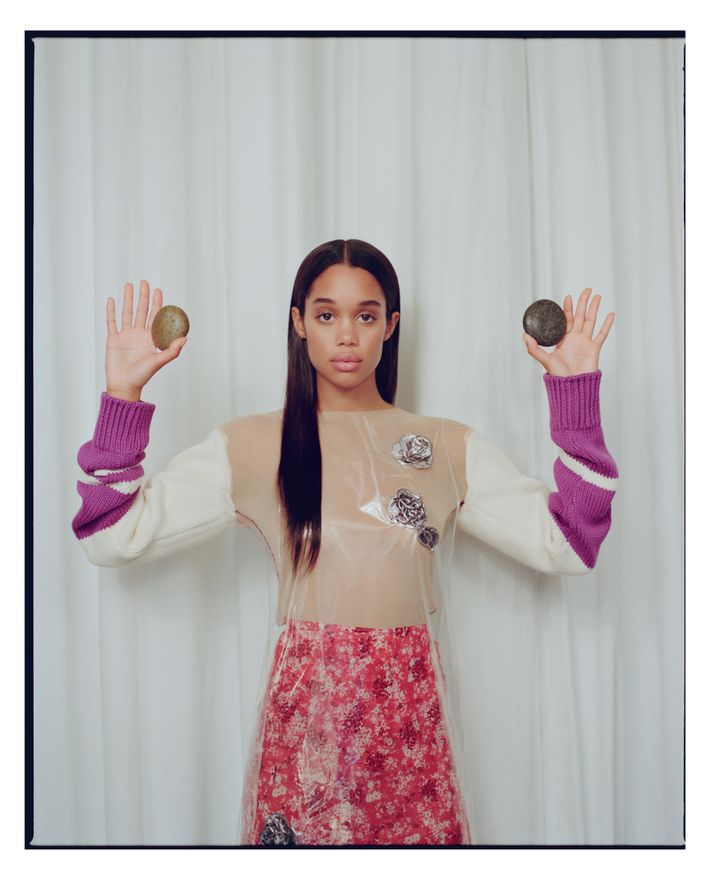 CALVIN KLEIN 205W39NYC Varsity-Sleeve Stocking Top, $1,650; Wrap Skirt, $995; Plastic Over-Dress with Metallic Floral Applique, $895; all available at Calvin Klein.
After a while Harrier decided to study drama, so she enrolled at the William Esper Studio, whose esteemed alumni include Kathy Bates, John Malkovich, and Kim Basinger. "I thought I'd be doing weird, Off Broadway theater after I graduated," she said.
Instead, she signed on to join Steve McQueen's newly-conceived HBO project, Codes of Conduct. Before that, she briefly held court as a young mom on Hulu's One Life to Live revival. Neither show found much success, however. One Life to Live was canceled after one season and HBO pulled the plug on Codes of Conduct before a single episode aired. So Harrier continued to model, showing up campaigns with Garnier's skin-care division (thanks to her poreless face), Steve Madden (thanks to her infinity-legs), and Urban Outfitters (thanks to her distinct flavor of cool). And then came Spider-Man: Homecoming.
When Jon Watts set out to direct a Spider-Man movie for the year 2017, he wanted the cast to reflect the diversity of Peter Parker's world. (Parker lives in Queens, which you might have missed had you seen 2002's Spider-Man, where the only cast members of color were Octavia Spencer as "Check-in Girl," Macy Gray with a cameo as herself, Ajay Mehta as "Cabbie," and Sara Ramirez as "Cop at Carjacking.") Watts didn't find out until after he cast Harrier how perfectly she fit the bill.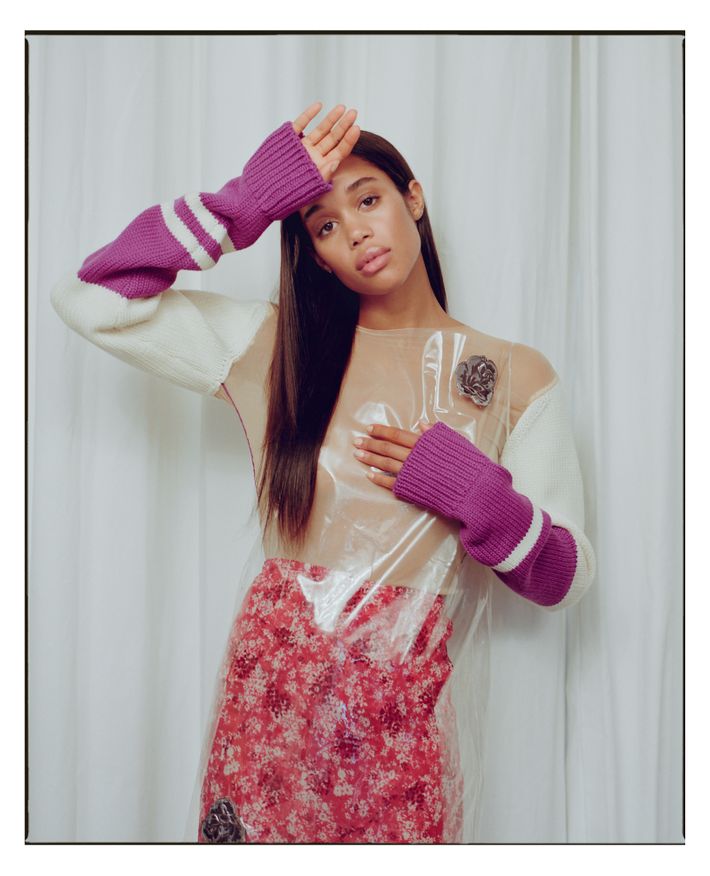 Evanston, the suburb of Chicago where Harrier grew up, is almost perfectly racially and socioeconomically diverse. "It's such a bubble and I never thought about things in terms of racial identity. People are like, 'Was it hard growing up mixed?' 'Did you not fit in?' and I'm like 'No? What? That's the dumbest question ever.'"
Harrier is biracial, in a moment when the Tracee Ellis Rosses, Rashida Joneses, and Zoë Kravitzes of the world are vocalizing the complexities of living in this country representing two disparate backgrounds. Harrier has joined the conversation. "Growing up, there were no families on TV that looked like mine. I remember doing the census as a kid and my mom being like 'This is a really big deal because this is the first time you can check more than one box.'"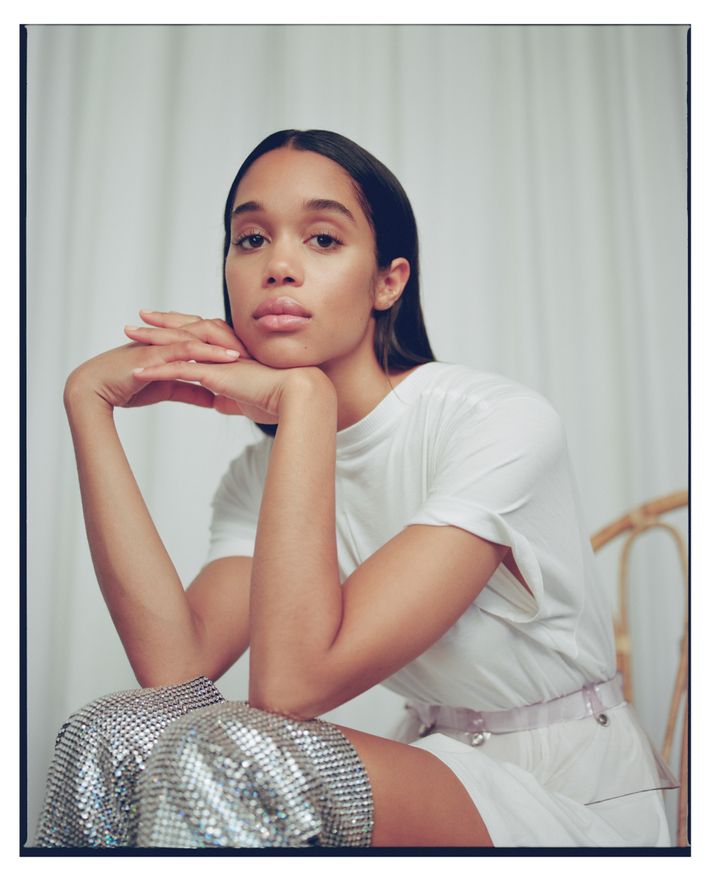 Saint Laurent by Anthony Vaccarello Crewneck Boyfriend T-shirt, $350 at 3 East 57th St.; 212-980-2970. Saint Laurent by Anthony Vaccarello Crystal Strass Boots, price upon request at YSL. Zana Bayne PVC Peplum Belt, $225 at Zana Bayne.
When I start to ask her a sort of rude question about whether or not she sees herself as a black woman (the way Zadie Smith recently articulated it in Harper's), she does the labor for me. "I am a black woman and of course that's who I'm going to be playing, but I'm also biracial and that's a different side of the experience."
A few months ago, a British paper confused Harrier with her Spider-Man co-star, Zendaya. The two shared a laugh about the gaffe on Twitter because, as the saying goes, all black people look alike (I for one, feel personally victimized when I'm mistaken for Beyoncé).
The Twitter dalliance — two young women joking around — felt genuine because it probably was. Zendaya and Harrier developed a fast friendship on set: "Just like girlfriends and we'd go and do normal shit like get our nails done and hang out." A shared passion for social justice cemented their friendship. She tells me, "Police brutality is the most troubling thing to me." Which brings us to Philando Castile.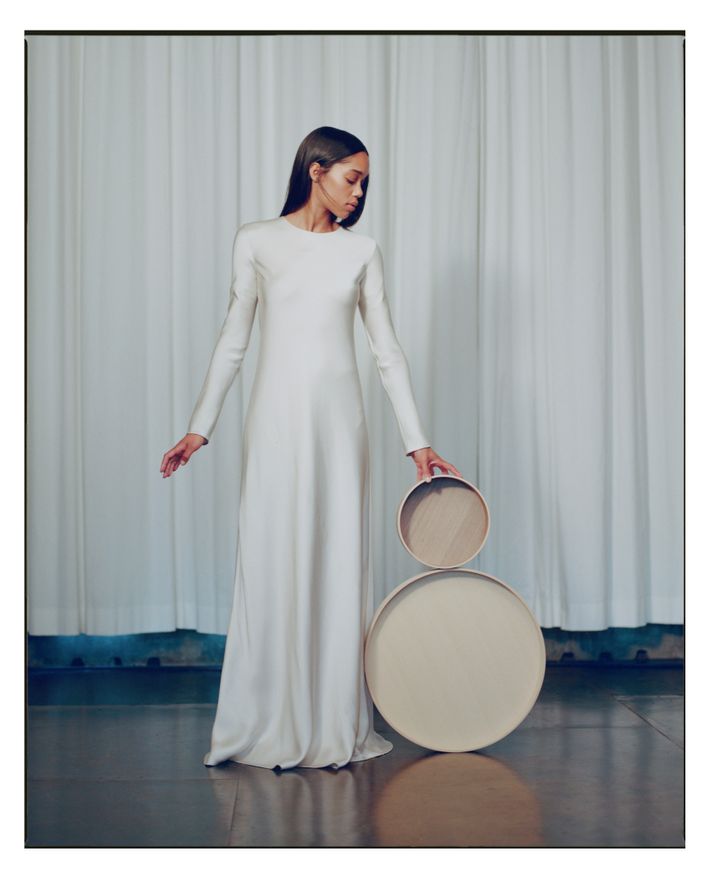 The Row Double Silk Satin Gown, $4,650 at 754 5th Ave.; (212) 753-7300.
The dash-cam footage of his murder had been released the week before. Watching the final moments of his life was like swallowing a bomb — it made you sad, it made you mad, it destroyed you. "It's just so hard to watch and there are clearly years of systematic oppression that are at work. We're talking about it now because we have these things" — she points to my phone — "but it's been like that for a really long time."
An awful feeling churns in my stomach as I recall the first time I watched Castile die: Last July, via the Facebook video uploaded by his girlfriend, Diamond Reynolds. "We were filming last summer and I remember Zendaya and I crying together as we watched it. Seeing that again was just …" Her voice trails off because this is hard. Because no matter how much magic there is in the black girl, there's also the shared experience of pain. I think, Am I going to cry right here?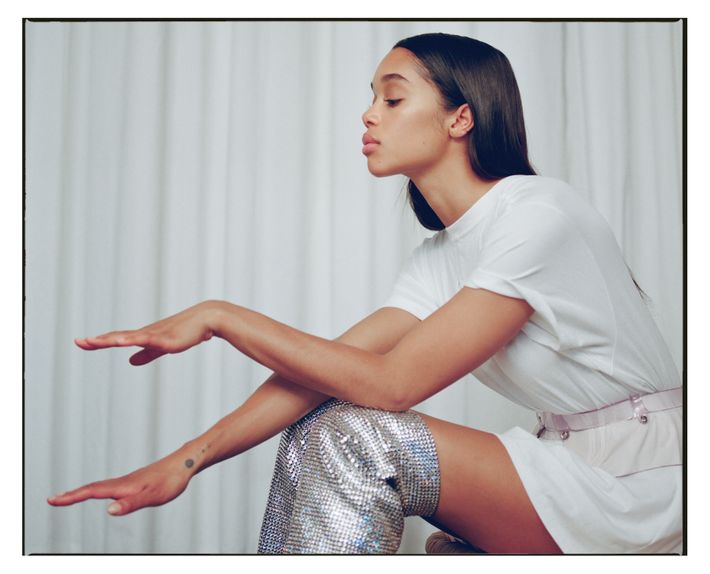 "Let me ask a lighter quest — "
"When I try to talk about it I just get really emotional," she says, dodging the easy exit. "You're probably going to listen to this transcription like 'What the fuck is she saying?' I can't even vocalize it because it's so upsetting."
"There are no words for that level of hurt."
"Exactly! You watch that and I'm like, 'That's my brother,' it could be any of us and that's what's so disturbing."
Harrier has a younger brother. I know what she's thinking because I think about it often too. That it only takes a second for a shaky cop to shoot your kind dweeb of a little brother dead.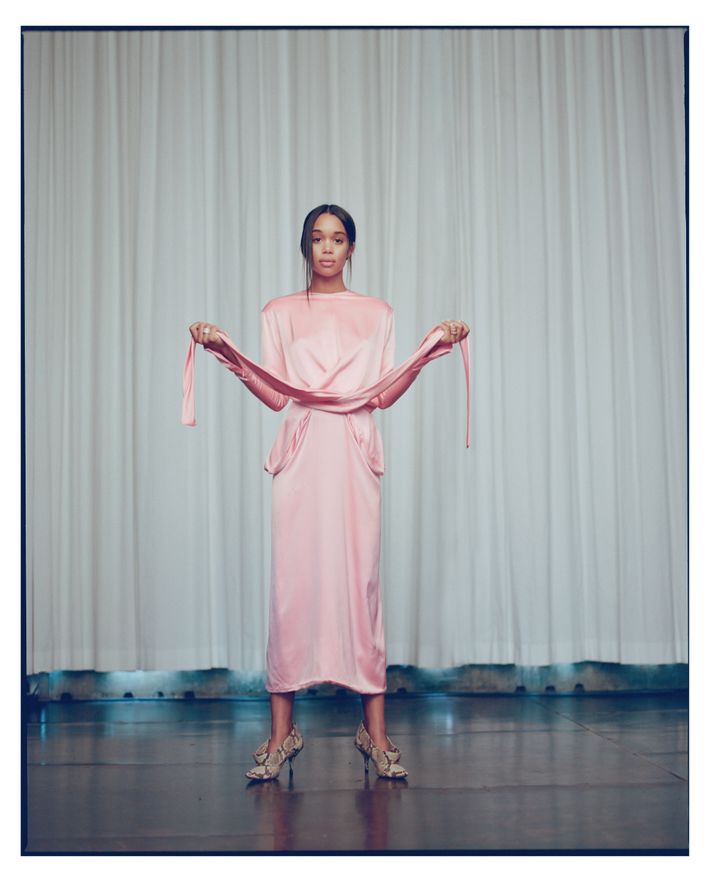 Céline Satin Crepe Belted Dress, price upon request; Collar Python Pumps, $1,500; all available at 870 Madison Ave.; (212) 535-3703.
"Are you a nerd?" I blurt out and we both laugh because it was random as hell, but also because laughing feels like the only antidote to tears. It turns out she is a nerd, having grown up reading comics and an absurd amount of Harry Potter: "I read the first book 12 times and I'd be in Ravenclaw because they're the smart ones."
I'd read that Harrier was into outer space, and suddenly we start talking about Einstein's special theory of relativity. "I love to look at different galaxies through a telescope," I say.
"You're actually looking into the past! Even when we're looking at stars in the sky — so many of those are dead and the light is just now traveling to us!"
I ask if she's reading any books right now (her Instagram so far shows dives into the punk-rock classic Please Kill Me, Aldous Huxley's Brave New World, and Anaïs Nin's Delta of Venus). She's rereading Fahrenheit 451 since she'll start filming the HBO movie adaptation with Michael B. Jordan the following week, she says. She's been cast to play his wife. I'm a Michael B. Jordan superfan. (I might have a body-pillow in his likeness at my desk at work.) But I don't feel a smidge of jealousy. Laura Harrier's just that likable.
Lead image credits: MONSE Draped One-Shoulder Satin Top, $790 at Moda Operandi.
Photo by Alexander Saladrigas, styled by Danielle Nachmani. Produced by Biel Parklee. Hair by Neil Grupp for Helena Collection at the Wall Group, makeup by Misha Shahzada using La Mer at See Management. Photography Assistants: Jupiter Jones, Diego Bendezu. Fashion Assistant: Caroline Edison. Special thanks to Industria Studios.