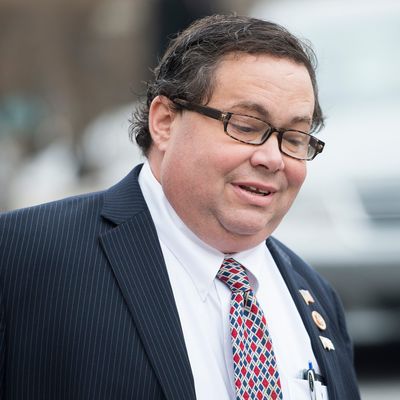 Blake Farenthold blamed "female senators from the Northeast" for the Senate health-care bill's failure.
Photo: Getty Images
Congressman Blake Farenthold and his rubber-duck pajamas have made headlines in the past for things like registering the domain name "Blow-me.org," being accused of sexually harassing a former staffer, and — after that accusation — voting to dismantle the Office of Congressional Ethics. And on Monday, the Texas representative continued his streak when he blamed "female senators" for the Senate's health-care struggle.
In a radio interview with 1440 KEYS, Farenthold said it was "absolutely repugnant" that Republicans hadn't managed to repeal Obamacare and blamed the lapse on "some female senators from the Northeast," according to the Associated Press.
He added that, if the dissenting senator was "a guy from south Texas, I might ask him to step outside and settle this Aaron Burr–style."
Farenthold appeared to be referring to Maine senator Susan Collins, as well as West Virginia's Shelley Moore Capito and Alaska's Lisa Murkowski, although of the three, Collins is the only one who actually represents a Northeastern state. All three women objected to a bill that would've repealed the Affordable Care Act without offering a replacement, and before that, Collins and Murkowski opposed a provision in the repeal-and-replace bill that would've cut funding for Planned Parenthood.
Of course, there are plenty of nonfemale senators who are hesitant on the health-care bill. Kansas senator Jerry Moran and Utah senator Mike Lee were responsible for killing the repeal-and-replace bill last week, and according to reports, Lee is still iffy — even now, advisers are busy trying to win him over before the next vote. And Kentucky senators Rand Paul and Ted Cruz have also been openly critical of Senate Majority Leader Mitch McConnell's efforts. Surely any one of them would make a fine, manly dueling partner.