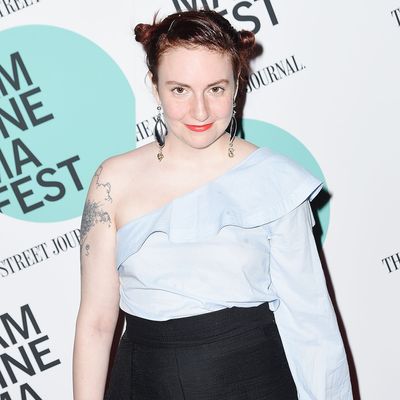 Lena Dunham.
Photo: 2017 Getty Images
A couple of weeks ago, Lena Dunham revealed on Instagram that she had quietly and discreetly checked her rescue dog Lamby into the Zen Dog canine rehabilitation center, before the dog was eventually re-homed. She explained, "Lamby suffered terrible abuse as a pup that made having him in a typical home environment dangerous to him and others." But now, a spokesperson for the shelter in Brooklyn where Dunham got the dog is disputing her claims of abuse, saying Lamby was perfectly fine before she adopted him.
BARC Shelter spokesman Robert Vazquez told Yahoo in an email that the shelter checked the records for Lamby, whom Dunham had claimed in a New Yorker essay had "three other homes, three other names" before she rescued him. "He was 'owner surrendered, not enough time,' so we do not know where she got 'multiple owners that abused the dog,'" Vazquez wrote. Furthermore, at the time Lamby was adopted, the dog was almost two years old and did not have a history of aggression, according to the BARC rep.
Per Yahoo:
"When she adopted the dog from us, it wasn't crazy," Vazquez continued. "I have pictures of the dog loving on Lena and her mom, which is weird if the dog was abused. It wouldn't be cuddling with her or be in the bed with her 'boyfriend' in the pages of Vogue." (Lamby appeared with Lena in a 2014 Vogue spread, which also featuring her co-star Adam Driver. The dog, which seemed like a trained pro, was with the pair on city streets, in bed, and chilling with the pair in the bathroom.)
Vazquez, who has been in charge of dog adoption at the shelter for nearly 15 years, added that he was on site during the "the four times Lena visited Lamby" before the adoption went through. "If Lamby had a bad past or was abused, do you think BARC would have adopted him to Lena knowing she's a new star and put her — or the dog — in that situation?" he wrote. "We would have told her if the dog had issues. We are a no-kill shelter. We don't lie about the dogs' histories because that gets them returned — and mentally it's not good for dogs."
The BARC spokesman went on to write, "It's just hard to believe the dog was nasty when she took Lamby to every green room with her when Girls was still a thing 4 years ago." He also criticized Dunham for recently getting two new dogs, which she brought with her to The Tonight Show in February. "[She] didn't admit she bought her two new dogs [despite writing in the] New Yorker that dogs shouldn't be dumped or thrown away because they have feelings," he said.
Update 9:15 p.m, July 6: Lena Dunham posted a statement on Instagram, explaining that she and BARC's staff have "a very different account" of Lamby's early life and behavioral issues. She stated that "his aggression – which was unpredictable – and his particular issues, which remain myriad, weren't manageable," and that she tried to provide for his specific needs as best she could. "After countless hours of training, endless financial support and a lot of tears he was given access to a better life," Dunham said. "I still support him financially and I'll always be there for him in every way but he's notably happier in his new surroundings."