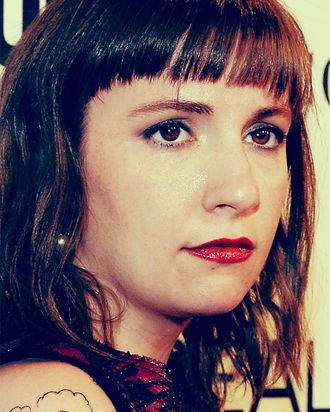 Lena Dunham.
Photo: 2016 Getty Images
Last week, an employee of the Brooklyn shelter where Lena Dunham adopted her former dog, Lamby, called her out for claiming the dog had suffered abuse as a puppy before sending him to the Zen Dog canine-rehabilitation center and eventually rehoming him. The employee told Yahoo that the BARC shelter had no evidence of past abuse and that the dog was fine when she got him. Now, Lamby's new owner Dani Shay, who works at Zen Dog, has spoken out about adopting the dog from Dunham, telling the Daily Dot that he's now "happy and well."
BARC employee Robert Vazquez slammed Dunham in an interview with Yahoo last week for claiming the dog had been abused and had three previous owners before her. According to Vazquez, the dog actually had no history of aggression and only one previous owner at the time of adoption. Zen Dog owner Matt Beisner told the Daily Dot that he believes Lamby suffered "neglect" as a puppy, since "he displayed behavior that's very consistent with dogs that are quite loving but undersocialized and developmentally not all there."
Lamby's new owner, Shay, told the Daily Dot that the center approached his training "slowly and carefully." She said the Girls creator "checked in every step of the way" and that she was kept fully informed throughout the process. Over the course of several training walks, Shay "bonded" with Lamby and told Beisner that she'd be interested in adopting the dog, at which point Beisner put her in touch with Dunham.
According to Shay, Dunham didn't take the decision to rehome Lamby lightly. "Rehoming a beloved pet is a difficult and painful thing to do, and people have to make that decision all the time, for various reasons," Shay told the Daily Dot. "When it came time for us to take the next step and I adopted Lamby from Lena officially, we did so in a way that would ensure all his particular needs would be met."
The dog is apparently now "living a great life" and "showing tremendous progress" under Shay's watch, though he still needs "gentle reminders" about certain behaviors. Shay said Dunham continues to contribute to the dog's life financially (Shay says she provides "excellent food, health care, etc"), while Shay provides "time, energy, training, and daily care."