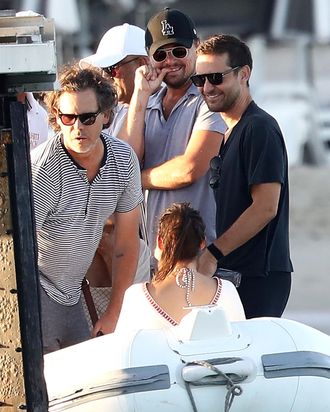 Guess where they're headed.
Photo: © 2017 BACKGRID, Inc.
Shortly after being photographed with several men on a luxury boat called Big Bang, it's no surprise that newsboy-cap aficionado Leonardo DiCaprio would be in a rush to return to his natural habitat: A yacht full of models. The plastic-bag carrier and his Pussy Posse bro Tobey Maguire were pictured on Thursday speeding off in a small boat to a yacht — named Impromptu — that was carrying a bunch of beautiful women off the coast of Saint-Tropez. We can only assume DiCaprio spent the yacht party once again bragging to models about never working out.