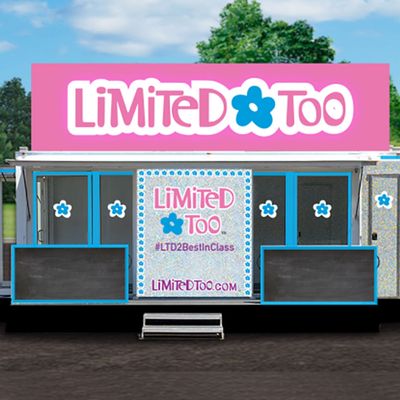 Limited Too's mobile pop-up shop.
Limited Too, the brand that defined our middle-school years, will be rolling into New York this August with a mobile pop-up shop, just in time for a new generation of tweens' back-to-school shopping.
The brand took a brief hiatus when it was sold and eventually relaunched in 2015 by Bluestar Alliance LLC, WWD reports. Since then, Limited Too has had an emphasis on digital commerce as opposed to the retail stores we used to frequent when getting ready for sleepovers back in the day.
But from August 6 through August 10, Limited Too will embark on a mobile tour throughout Manhattan with a ton of back-to-school products, including apparel, notebooks, keychains, cell-phone cases, and backpacks, WWD notes. All products will cost under $100, and the company apparently is considering hosting similar mobile pop-ups in Los Angeles, Chicago, South Florida, and Texas if all goes well.
So nice to know that we can all bask in nostalgia as we purchase a graphic tee and capri shorts to wear before changing into our Lisa Frank pajamas.